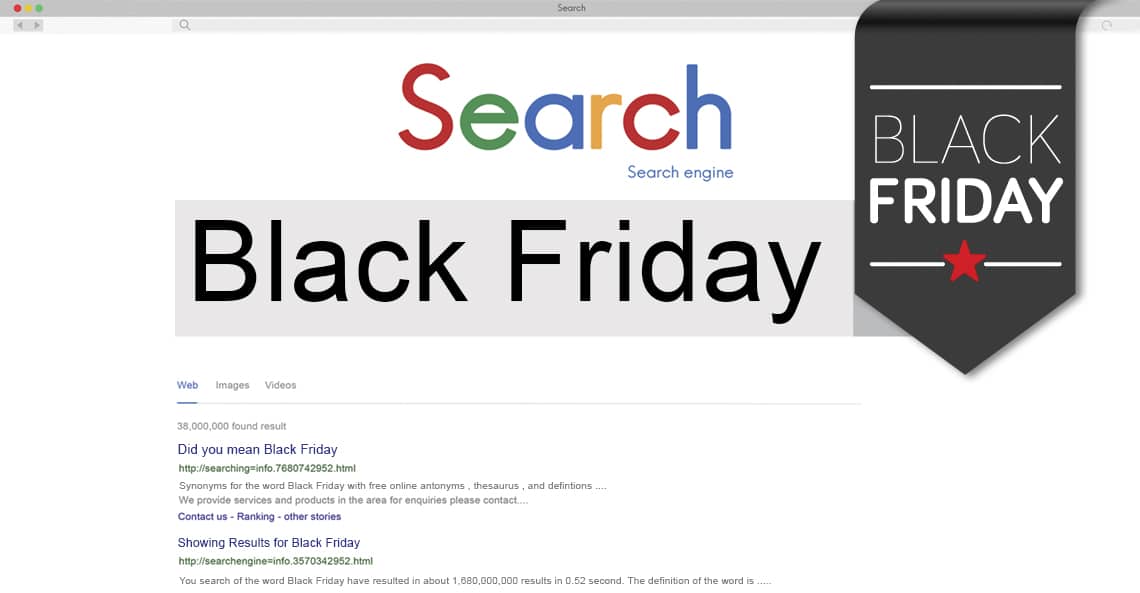 Black Friday SEO: 3 things you need to do
4.
Black Friday SEO: 3 things you need to do
In the world of organic search and search engine optimisation (SEO), Black Friday is only moments away. As you may or may not know, creating online content and having it rank well in organic search results takes time. So what can you do, in the time you have, to get your Black Friday specials as high as possible in the search engine page results come Black Friday? Why not try these Black Friday SEO tips?
3 things you need to do to improve your Black Friday SEO
1. Create a Black Friday landing page
The sooner your Black Friday landing page goes live, the sooner you can submit it to search engines to index. You do not necessarily need to have your actual specials live on the page until Black Friday, but you can provide content that says that you have exciting specials on the way. This landing page will help you with your Black Friday SEO in a number of ways:
You can use the landing page as the cornerstone of your Black Friday campaigns. The website link or url can be used in other marketing collateral as a reference point for people to get more information. You can create hype around your Black Friday specials with countdown timers, social posts and other marketing channels that point to your Black Friday landing page.
You can use the page to build your email database of people by giving people the option to sign up to your newsletter. They can benefit by being the first to know about your Black Friday specials.
Most importantly from an SEO point of view, by having a live page you can start to build backlinks to your landing page. These backlinks are a vital part of improving your page's search page rank and developing them takes time.
2. Get your on-page SEO right
On-page SEO is everything you can do on your website (on the page) to improve your search engine optimisation. Without going into all the technical detail, here are a few things that you can check:
Does your website have an SSL certificate? You can check this by seeing if your website address starts with HTTPS. This extra bit of security gives your SEO a boost and makes visitors more comfortable when using your website.
Is your website mobile friendly? Most people will be searching for you specials on their phones so you want to get this right. Read this for more info.
Do you use your keywords consistently? You can check this by looking at the words used in your page title tag, meta description, page headings and body copy.
Are there alt tags for each of the images on the page? Search engines cannot read images so these tags help tell them what is what.
Make sure that all of your images are optimised for the web to increase your page load speed.
Check your page's loading speed. The faster your page loads the more sales you will make.
Make sure that there are no broken links on the page.
If you have an ecommerce platform, it is worth checking that the products you promote on Black Friday check these boxes.
3. Submit your updated sitemap
Once you have done your on-page SEO and taken your Black Friday landing page live, do not forget to update your website sitemap. Sitemaps assist search engines in finding all of the pages on your website.
You can take this a step further by submitting your updated sitemap to Google. 95% of all searches in South Africa are on the Google search engine, so if they know about your landing page then everyone will. You can submit your sitemap to Google through their Search Console platform.
If you aren't sure how to check your Black Friday SEO or how to update your SEO, give us a call and we will be happy to help.