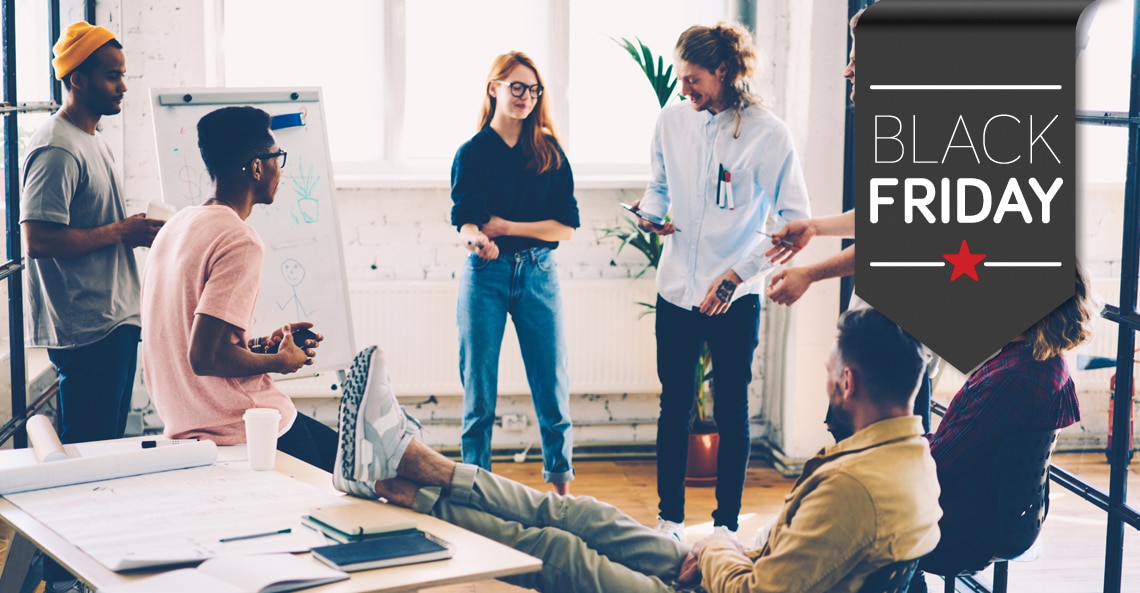 Black Friday advertising campaign tips for online stores
8.
Black Friday advertising campaign tips for online stores
Putting together a Black Friday advertising campaign for online stores is not too different from creating any other advertising campaign. First off, we are defining an advertising campaign as "a planned series of advertisements that will be used in particular places at particular times in order to advertise a product or service and persuade people to buy it or use it" (Cambridge Dictionary).
With Black Friday, and Cyber Monday, you do have the benefit of piggy-backing off the hype that the day is already associated with. This means your campaign already has some set parameters that you can work around to develop your campaign concept. As with any advertising campaign, you need to start with a well-planned, solid concept. Every little thing you create from this point on must fit into your Black Friday campaign concept, both in the language you use and visually.
The language of a Black Friday advertising campaign
As important as keeping your advertising campaign elements all looking visually the same, is also making sure your messaging falls in line with your campaign concept. You want to create a set of marketing messages which describe your promotion. For example: "We are painting the town black. Get 50% off all footwear online this Black Friday!" If "painting the town black" is your core message, you need to plan to have that line appear across all the advertising campaign elements. Or at least tie in the concept in a clever way.
You can use a series of teaser mailers to tell a story and build towards the announcement of your actual discounts. These can be scheduled in advance and rolled out at the right time.
You also want to make sure that the discount is highlighted, even if it changes from product to product. You can use language such as "Up to XX% off".
Black Friday advertising campaign visuals
Traditional discount campaigns make use of garish colours, bold discount statements and flashy design elements. These techniques are used to draw attention and promote interest. That's what you want right?
Choose a colour/s that will stand out from the rest of your design elements. You do not want your Black Friday sale offerings to blend into other "standard" savings on your online store. Using large areas of black with a high-contrasting colour, such as red or yellow, will also highlight the Black Friday connection.
Even premium brands can make use of some retail advertising rules by choosing an altogether different colour to highlight Black Friday discounts in their advertising campaigns.
Your chosen campaign colours can be pulled through to landing pages and buttons to create a consistent user journey for your shoppers.
Use bold and impactful fonts to draw attention, even if these are outside of your standard corporate identity.
Colours, fonts and design elements will be used across all the campaign elements you choose to implement. While the design specs will change the way the elements are applied, your resulting collateral should all look like it belongs to the same family when you put it together.
Here is a simple list of Black Friday digital advertising campaign elements:
By keeping all your campaign elements consistent in both language and look, you can build awareness with your Black Friday advertising campaign before the madness hits.
If this article stresses you out and you are feeling like you need to get a hold on your advertising, drop us a mail because we love all things design and digital.

Talk to us