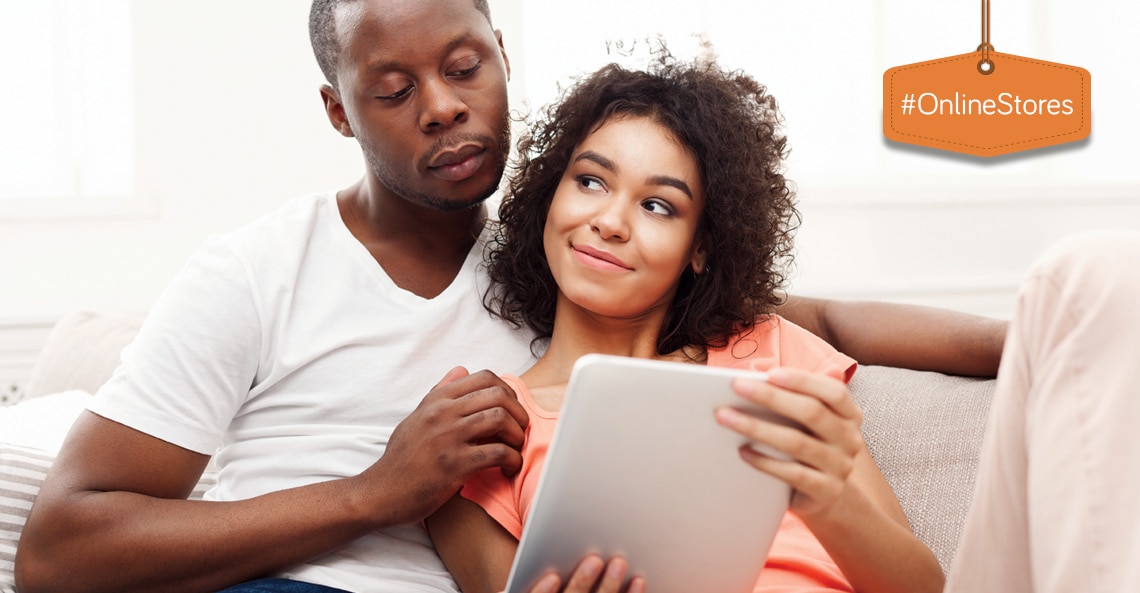 Online store copywriting tips that engage and convert
7.
Online store copywriting tips that engage and convert
Your online store is made up of a lot more than pretty product shots. An attention-grabbing image may be the first thing you notice when you open a website, but you'll find your eyes quickly scanning over key copy. Let's be honest, you realise if a website is not in your language almost immediately, right? Copy is the type (excuse the pun) of thing that you notice if it's a bit off. This highlights the importance of making sure your online store copywriting is as close to perfect as possible. Not only that, but it should ideally be copy that engages and converts visitors. Let's take a look at some handy tips to be cognisant of when planning and writing the copy for your online store.
7 tips to engage and convert visitors with your online store copywriting
1. Spell check
First things first, please ensure that every single bit of copy on your online store has had its spelling, grammar and punctuation checked. Credibility is key when it comes to online shopping, and shoppers will look at multiple cues before parting with their money. It is unlikely that your shoppers will trust your business or purchase from your online store if there are a lot of obvious spelling, grammar and punctuation mistakes and mishaps. Why? Because people may assume that if you can't even spell then how will you make sure I get the right product, delivered at the right time at the right price?
2. Don't ramble
Some of your shoppers may have a bit more time to browse your online store than others, but no one ever has time to read long-winded stories about each product or overly complicated copy about payment and delivery procedures. Remember KISS – keep it simple, stupid (some even "and short"). Online store copywriting should be edited just like any other piece of copy, and the reason editing takes place is to make sure the copy that is left is essential. There really is no need for superfluous mumbo jumbo that does not add any value whatsoever to your online store. Stick to what is important so that your online shoppers can quickly find what they're looking for and ascertain whether or not the product they are looking at will fulfil their needs and wants.
3. Be consistent
It's no good if your online store copywriting is perfect, but you've decided to use hundreds of different types of fonts, font sizes, colours and styles (unless you're selling unicorns). Copy not only has to BE good, it also has to LOOK good. Your online store should have a comprehensive style guide that your designer puts together in an effort to ensure that every page on your online store is consistent. This is not only much easier on the eye, but also lends credibility to your online store. If it doesn't look and read professionally then visitors will not be converted to purchasers. Also remember to make sure your copy is consistent with your product photos as we discussed earlier in the Online Stores series.
4. Grab attention
All of the headlines on the multiple pages of your online store have the same purpose: to grab attention. Your online store copywriting needs to constantly reel your shoppers in so that they feel the need to read more about your brand and products. How do you get this right? You need to know who you are talking to and what they are looking for, and this will help you grab their attention. Keep your headlines relevant, short and to the point. Other great headline tactics include adding a sense of urgency and calling visitors to take action. Now, once you have someone's attention, don't leave them hanging! As the read on, they should discover everything else they need to know to make an informed purchase decision.
5. Think SEO
Your online store copywriting can be spectacular, but it is certainly not going to convert to sales if it is not in line with your SEO (search engine optimisation) strategy. There are many facets to SEO, which should be carefully considered. SEO is also constantly changing, so you need to stay in the know and always make sure your copy is updated to adhere to the latest SEO requirements and guidance. If you're investing money into Google advertising then there is even more reason to ensure that your online store copywriting makes sense from an SEO perspective. After all, you don't want to be bidding for keywords that don't even feature on your website or blog. Speaking of blog, yes, it is a good idea for an online store to have a blog as this will help tremendously with your SEO. Take a look at the Superbalist and Yuppiechef blogs.
If you're interested in starting a blog for your online store, take a look at some of these blog SEO tips.
6. Be interesting
Sometimes the requirements for online stores doesn't leave a lot of room for creativity, but there certainly are plenty of pages and places where you can at least be interesting. You ideally want to grab visitors' attention and then keep them interested in your brand and products. Online store copywriting has the potential to be engaging, Once again, to do this, keep your target audience in mind and focus on their needs and wants. Don't be boring. You're talking to real humans who are emotive beings, so don't be all fact and no fun. Figure out the right buttons to push, and then push them.
7. Create desire
One of the most important things that your online store copywriting should do is create desire in your visitors. Desire is about waking something up in a person – something that they never knew they needed or wanted. How do you create desire? Your copy must paint a picture in your visitors' minds. The picture should show create a connection between getting the product and feeling a positive emotion. How do you paint pictures like this? Tell stories. Good stories. You can increase a product's sales simply by telling people a story about it.
Give these seven online store copywriting tips a try and watch how effectively they engage and convert. If you're looking for a bit more online store guidance, give us a shout.

Talk to us