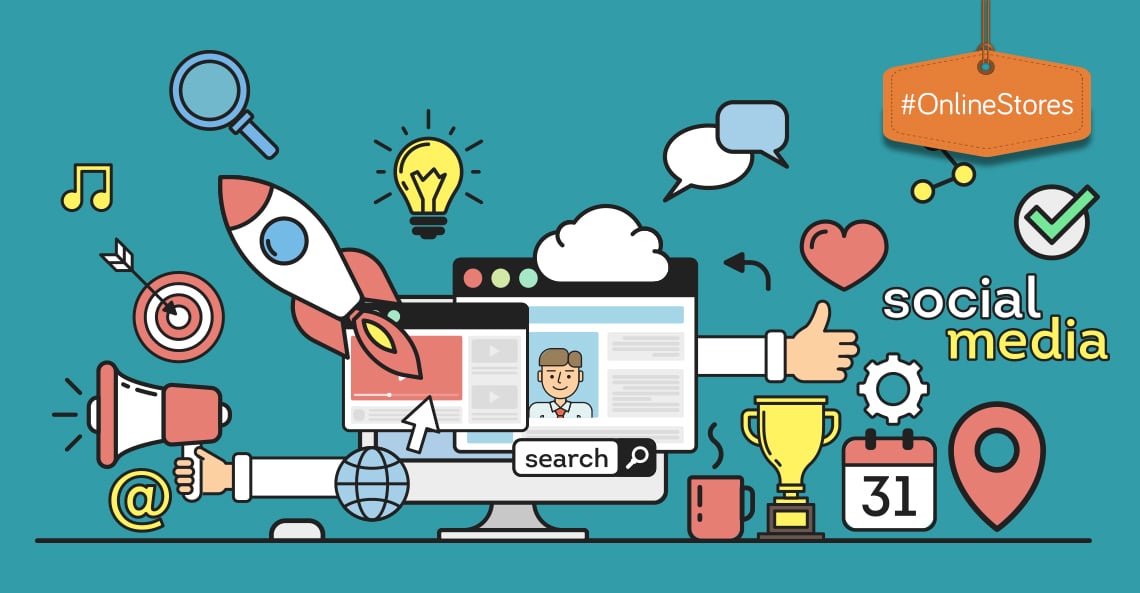 Digital direct marketing tactics for your online store
12.
Digital direct marketing tactics for your online store
Digital direct marketing tactics are an excellent way of getting customers to your online store. Digital direct marketing is great for gathering new customers and for encouraging existing site users to return.
Shopify classify direct marketing as: "Direct marketing is a promotional method that involves presenting information about your company, product, or service to your target customer without the use of an advertising middleman. It is a targeted form of marketing that presents information of potential interest to a consumer that has been determined to be a likely buyer."
For the purpose of this article, we are looking at digital forms of direct marketing which includes various forms of email marketing and targeted online display or social ads.
Digital direct marketing through targeted online display ads and social advertising
Targeted is the main idea here, as with all direct marketing. You are not wanting to waste budget advertising to anybody and everybody. You want to find ways to segment your target audience. This allows you to market directly to people who you are fairly certain would be interested in your products. This targeting can be done in a few different ways.
Google and many social platforms such as Facebook, LinkedIn and Instagram allow for digital direct marketing to targeted audiences. The algorithms are improving constantly to provide you with a unique customer base to serve your direct marketing campaigns.
The first audience to target is people who have actually been to your website. This user has found your website before through another channel and you want them to come back.
After this you can start to create audiences of potential customers based on search terms. These are people who have searched for a particular keyword or product. They may still be looking for that product or related items and Google is happy to show them your website, to potentially solve their problem. An example of this is if you have been looking up exotic holidays in the Maldives. You would potentially be interested in flights, travel insurance, hotel deals, tours, transfers, forex, swimwear, sunblock or even in learning a foreign language.
You can set up target groups by geographic location or even locations visited (like your competitors retail store). Then there are the more generic segmentations: age, gender, ethnicity, country, language, job title, interests etc.
What is a display ad?
A Google display advert appears within another website. These websites are part of the Google Display Network and allow Google to advertise on their websites, for a fee. Find out more about the display network and how it works here.
The social platforms have different names for their advertising sets, but essentially they allow you to advertise your product within a users feed.
Direct marketing through display adverts can take on a few forms, namely: Text adverts, dynamic adverts, image adverts, animated/interactive adverts or even video ads. There are multiple sizes for use in different positions and on different devices across multiple digital marketing channels. You can test these out and see what works best for your brand over time.
Tactics for targeted display ads for your online store
Focus on your call to action (CTA)
Make your CTA's enticing and clear so that users know they will be visiting your website when they click. You can set these to navigate to a specific product within your online store if that suits the artwork.
Keep your designs simple and clear
There are two reasons for this. Some of the display advert sizes are very small, especially for mobile. Make sure that your very small text is still legible at the actual size it will be shown to a user. The other reason is that the digital display marketing space can be saturated with adverts and other content. If your advert is very busy it can very easily be lost in all the clutter.
Reinforce your brand
This is especially important if you are marketing to an audience who have already visited your website. Don't allow for any confusion of what your brand looks like. The user must see the same colours, logo, fonts etc on your website as they see in your display adverts to build trust with your brand.
Try and try again
Digital marketing allows you to use a variety of different advert formats and targeting options. Use these to your benefit by testing and refining both your targeting and your artwork. Run A/B testing by changing just the headlines or the call to action to see what converts. Online marketing gives real time data on ad performance so you can change and tweak as you go.
Digital direct marketing through targeted emails
Before you can use emails in your direct marketing campaign for your online store, you will need a potential customer's email address. Any additional data you can gather on your shopper is valuable, but not more so than a real, active email address.
Direct marketing to a potential customer via their email address must be done carefully. Very carefully. Too many emails and they unsubscribe. Annoying emails, they mark you as spam! Relevant, informative emails they engage with. That is what you want, engagement with your website, with your brand and your products.
Tactics for using email direct marketing for your online store
Ask subscribers to add you to their address book
You can give them good reason to do so too. Remind them that by endorsing this you become a trusted contact, they won't miss out on their invoices, shipping information and of course discount vouchers.
Use personalised forgot cart emails
An item left in a cart indicates a keen shopper. Carts are abandoned for a variety of reasons. A customer may abandon due to time constraints, outside distractions or even the loss of internet connection. They may be checking for competitive prices or shipping costs. Some customers check to see if there are any hidden costs involved during checkout (such as shipping or VAT) before deciding if they want to buy a product. A reminder email can bring a customer back to complete the all important payment.
Giveaway loyalty benefits
We all love discounts and coupon codes. Sending these to your audience can be the final push they need to purchase something they have had their eye on for a while. You can leverage all sorts of reasons for sending out a discount code via direct marketing. Send on birthdays, for special occasions, for longtime subscribers and to new members. Digital direct marketing allows you to automate many of these marketing tactics. So you only have to do the setup work once. Brilliant!
Utilise the data you gather
You will start to build data on your shoppers based on their purchases. Leverage that to upsell and cross sell. Think spares and accessories or products that go together. Maybe even the latest and greatest new release of the same product. Ask yourself, "What would be relevant to this type of customer?"
Ask for feedback with direct marketing emails
And reward customers for giving their review of your online store and the product they purchased. You can also request clients share their purchase across their social profiles for a little bit more coverage.
Don't be needy
I hope this goes without saying but please don't be needy. If a client isn't shopping, leave them be. They will shop when they are ready, or they won't. A constant stream of irrelevant emails will more than likely drive them to unsubscribe. Or worse, mark you as a spam sender, increasing your chances of your emails ending up in a junk mail folder never to be seen.
Wanting to really up your marketing email game? Here is some more advice to help you get your digital marketing right.
So how do you get started?
Digital direct marketing is an exciting place to explore opportunities for getting your online store noticed and promoted. It allows a very targeted approach rather than a board shotgun solution. The digital direct marketing world also allows for testing, quick changes and multiple adverts running at the same time. Getting your online store top of organic search results will take some time in a generally saturated market. Try various techniques to find your niche. We would love you to contact us if you are looking to create a digital direct marketing strategy for your online store.

Talk to us