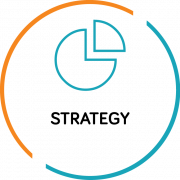 Strategy is fundamental to us! We don't just do things for the sake of it. The strategic thinkers at Flicker Leap challenge the status quo to determine strategic objectives, create solutions, implement plans, measure results and refine strategies. What direction is your business going in and do you have a strategy?
What's the plan?
Strategy is one of those words that gets bandied about in business, but is all too often forgotten about in the busyness of day-to-day work. Business plan development is necessary, but how is it practically implemented? We know it's important to have an overall aim in mind, but putting out the fires directly in front of us inevitably takes precedence.
In the digital world there are a lot of loose wires capable of sparking fires. The best, and only, way to navigate the complexity is to set your dial to a destination and plan your journey. The strategic thinkers at Flicker Leap are cartographers of the digital realm who expertly guide clients into a successful future. Once a strategic course is set, tactics are plotted and action is taken.
"Strategy without tactics is the slowest route to victory, tactics without strategy is the noise before defeat."
– Sun Tzu
Don't just do "digital things" without purpose, simply because you've been told to digitise your business. Going digital should make your life easier, not more complicated. Implementing a long-term plan encompassing digital solutions to real-world problems, and assessing results in motion, will move your business forward.
Moving in the right direction
"However beautiful the strategy, you should occasionally look at the results"
– Sir Winston Churchill
As we walk along the digital road with clients, we commit to observe our surroundings at regular intervals to ensure that whatever we are doing is achieving objectives and providing a return on investment. We constantly delve into Google Analytics and provide digital reporting services for clients who want to carefully track their advancement. We fix, we adapt and we keep progressing.
When operating in a dynamic environment, it's important to proactively seek strategic solutions. Our mapping methodology demands a never-ending cycle of strategising, creating, implementing and measuring. This process results in refined digital strategies and tailor-made solutions that effectively achieve business and marketing objectives.
unassailable digital solutions