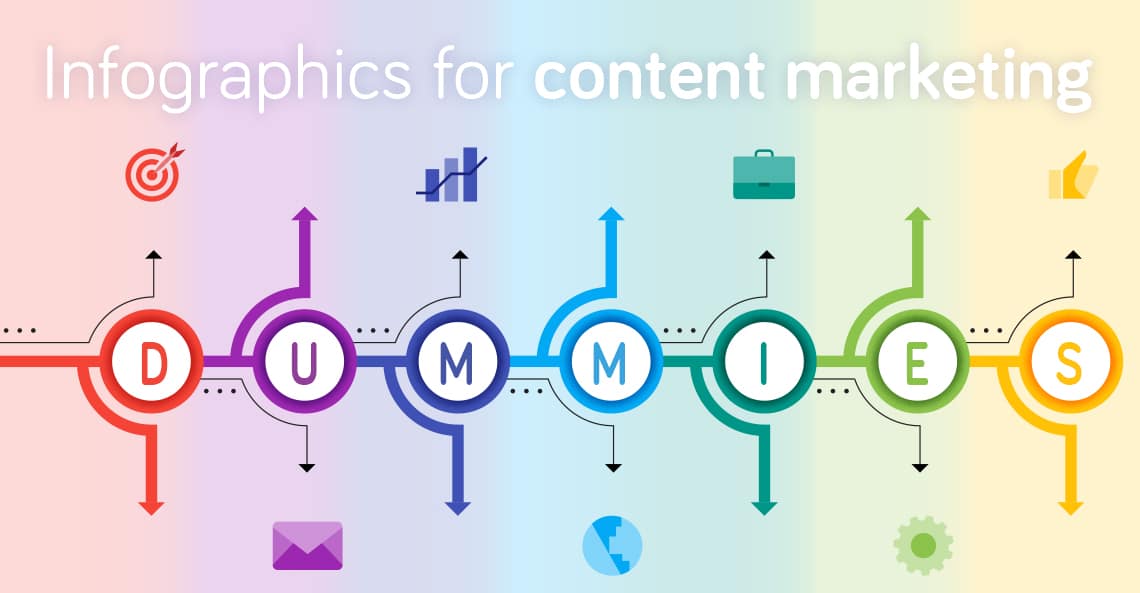 Infographics for content marketing dummies
If using infographics for content marketing is all very new to you, don't stress. We put together a quick summary to get you up to speed. Infographics are a fantastic way to turn boring 'traditional' content marketing (i.e. blogs posts) into something unique for your audience.
What are infographics and why do they count as content marketing?
A quick, simple definition of infographic or information picture is "a visual representation of information or data, e.g. as a chart or diagram. 'a good infographic is worth a thousand words'" (Oxford English Dictionary).
If your business has been creating blog post after blog post and not gaining much search engine optimisation (SEO) traction, it's time to get creative. Ideally, your content should be created as blog posts, vlogs, video, memes, infographics, etc. This keeps things interesting and appeals to various target audiences. Content marketing can be done in-house, with the help of experts where needed. Examples include using a videographer to put together a corporate video or enlisting a graphic designer to layout your infographic content.
Content marketing is a very broad term and infographics are just one element of a truly stand out content marketing strategy. If you are looking for more ways to expand your blog beyond a blog then have a look at this article: Think outside the blog article box to generate leads.
What's all the fuss about infographics for content marketing?
Infographics:
… are valuable
Infographics do require research, planning and design to reach their full potential. If you want to create some content as an infographic, make sure it is valuable to your users. Research trending topics, popular searches and other infographics around the same ideas. You want to make sure your infographic will answer the questions that people are asking. An infographic is only as valuable as the content it communicates. Remember I said that content marketing can be done in-house? The research behind a quality infographic MUST be done in-house. Why? Because you are the expert. You know what your customers want and you know how you can solve your customers' problems. If you have a combination of great information and visually appealing graphics, your infographic is ready to go viral.
… simplify content
Infographics are not for dummies, but rather for information overloaded minds.They provide an easy-to-read overview of the information you have to present. Infographics declutter the realm of content marketing. Who doesn't love a little less clutter?
Full paragraphs can be cut down to one line of text. Icons replace full sentences. Statistics become images. Pictures tell stories. Your full complex message is depicted in one image.
… are good for SEO
Search engines are not just looking at words when they run their SEO algorithms. Images also play a large roll in your SEO efforts. An image, in this case infographic, with an image title and appropriate alt text will rank in relevant image searches. Aim to create eye-catching, interesting graphics which are shared on social media platforms such as Pinterest or Facebook, directing traffic back to your site. You do not need to get a professional designer to create your infographics, but you do need to ensure that the final result is professional and well designed to make sure it is 'share worthy'. If a person finds three infographics with very similar information, you want yours to win on pure good looks.
… tell a story
Stories are powerful in that they capture attention, are interesting and are memorable. Storytelling is therefore a great way to communicate. Well-designed infographics set out information to tell a story and guide a user from one piece of information to the next. The combination of visual and text allows the information, or at least parts of it, to be easily memorised for later reference.
… make you look like a pro
If you have invested time and effort (which equates to money) into the creation of an awesome infographic, you will stand out. It would be foolish to invest in something you do not believe in. By creating infographics which communicate core elements of your business, people realise that you are experts in your field and that you are willing to put your money where your mouth is.
… are pretty
People pay attention to things that are different from the ordinary. No matter how much of a content marketing novice you are, you will I'm sure know that visuals stand out in a sea of blog articles. Social media platforms will tell you that visual content is shared more often than text-based content. The same is true with website content. Make your infographics visually appealing and compelling.
… allow you to brand your content marketing
Where blog posts are formatted as website content, using your brand's unique web design, they are primarily made up of text. This has the benefit of being responsive to different screen sizes and is easily tracked by search engines for SEO. Infographics are images which can use colour, font size and weight, icons, illustrations and brand graphics. All of these elements allow you to promote your brand.
… are social media friendly
If your infographic is valuable, it will be shared across social media platforms, promoting your brand even further. The visual aspect of infographics means that people see who you are before even engaging with your content. A visual piece of content can be used multiple times and shared across many forms of media. You can use elements of your infographic as tweets, posts or pins, enticing users to visit your site for the full story.
Making your infographics work for you
If you have invested in a quality infographic. You need to make that investment work for you. Here are some ways to repurpose them:
Add some interest to your brochures
Create printable versions. Request and email signups to allow users access to high-resolution graphics to build your database.
Allow your sales team to use it as a sales tool
Create magazine adverts
Design banners for displays and expos
Use them as a wallpaper in your offices
In summary
For content marketing dummies just starting to delve into the world of infographic content, creating quality content should be a top priority. Infographic success is easy: ensure your infographics offer valuable information in a visually appealing way. Simple right? And it really is. Check out this ultimate how-to guide to make your own infographics.
Otherwise get in touch with us. Flicker Leap are always excited to get client's content into an infographic format that sets them apart. Contact us for a quote today.

Talk to us