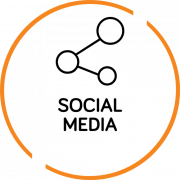 Having a solid presence on social media is essential for brands, but it can be a time-consuming activity. We manage social strategies and accounts with engaging organic and paid content. We can also equip existing marketing teams with specialised support.
Creating communities
Businesses can't afford to be antisocial in the current digital climate.
Social media refers to a growing list of online social communities and content sharing networks, which afford the ability for individuals and businesses to digitally connect with one another. It enables people and brands to find and connect with others, share content and participate in online discussions. Our campaigns boost social presence and increase brand awareness significantly.
Flicker Leap assists clients in crafting organic and paid social content to strategically engage with target audiences. We begin by conceiving marketing personas and then discover how to interact with them in ways that entice them to further engage with your business. The funneling of users according to overarching marketing goals ensures measurable results on each platform selected. Social media channels are chosen based on their ability to reach these goals. Our team are proficient in the ins and outs of Facebook, Twitter, Instagram, Pinterest, LinkedIn and Google +. Content constructed for these platforms includes copywriting, images, videos, GIFs, competitions and other interactive brand stories and promotions. We offer full social media account services whereby we become a custodian of your brand, or alternatively we offer training and support for existing marketing teams to ensure competent social media management. Our ultimate goal is to carve out a uniform social media presence for businesses that inspires individuals to not only follow them, but to actively promote them as well.