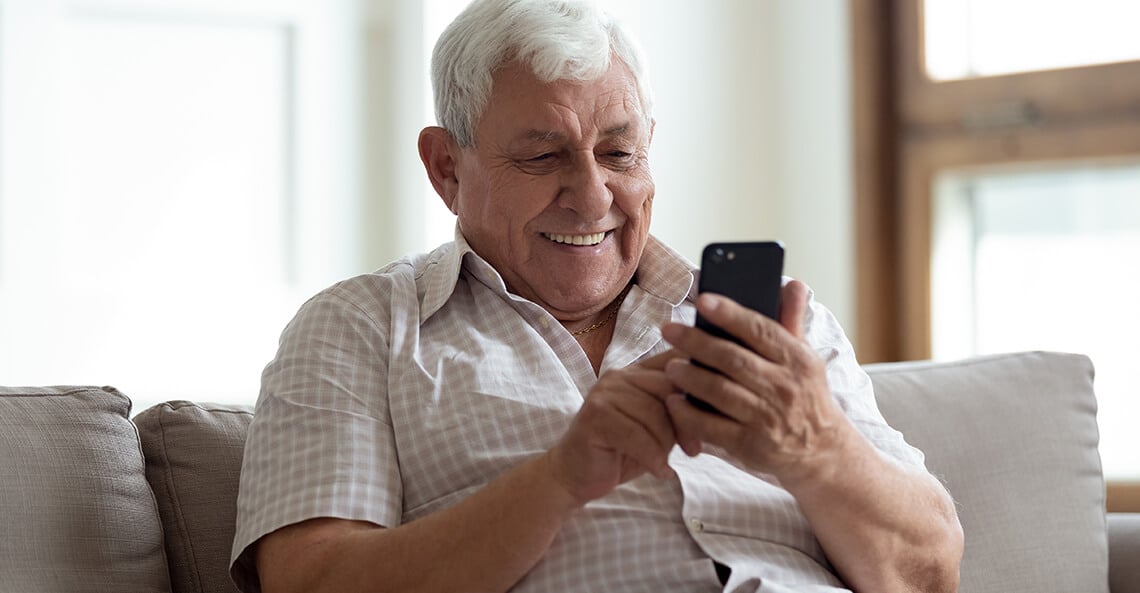 Digital communication with clients when face-to-face isn't an option
Sometimes things, like pandemics, force businesses to change the way they communicate with their clients. We all know that face-to-face wins the first prize when it comes to effective communication with clients. However, there are many great digital communication options available when face-to-face is not possible. Let's take a look at how you can use some of these communication methods to your advantage. 
Digital communication options for businesses
1. Video calling and conferencing
The most obvious alternative to having a face-to-face meeting is to move it online using one of many video calling options. If your clients have access to a digital device and high-speed internet then all you need to do is send them a meeting request with the necessary link to attend the online meeting. There is a lot to choose from when it comes to video conferencing services, including Google Hangouts Meet, Skype for Business and Zoom. 
The big plus of these services is that you don't necessarily have to connect with your desktop or laptop computer. You can also use your smartphone. In fact, if you just need to meet or talk with one person or a small handful of people then you can easily video call them using, for example, FaceTime or WhatsApp Video Call. If you have more than a few people then it is better to use one of the video conferencing options. There are many advantages to using video communication to connect with clients, including:
Improved communication with clients when compared with voice-only calls. This is because body language and facial expressions can be "read" and understood during the conversation.

Enhanced relationships with clients as a connection can take place across any physical boundaries. 

More flexibility as it's a lot quicker and easier for clients to attend than a face-to-face meeting.

Increased productivity as video calls or conferences are often a lot less time consuming and more focussed. 
2. Instant messaging
Instant messaging platforms are typically used more socially and for personal rather than business use. However, some instant messaging platforms are becoming more and more acceptable in the business world. If you can't meet your clients face-to-face, but you need to discuss something fairly urgently, then why not send them a quick message via WhatsApp or iMessage. Or you can use Google Chat or Slack to connect with your clients. This is especially handy if you need to touch base with clients frequently throughout the day. The main advantages of instant messaging with clients are:
Convenience

Real-time communication

Enhance mobility and accessibility

Saves space and time

Improves productivity
3. Online chatbot
If it would work for your business then perhaps it might be worth setting up an online chatbot for clients to instantly engage with when they visit your website. In this way, clients could get their questions answered then and there. For example, perhaps a client wants to add something to their cart, but want to ask something about the specs of that product before purchase. An online chatbot could provide that information instantaneously, thereby improving the client's experience and increasing your sales at the same time. Indeed, according to MobileMonkey, "38% of consumers are more likely to buy from a company if they offer website chat support". Other advantages of having an online chatbot include:
Increased client engagement

Improved customer service

Cost saving

Makes your business available 24 hours (great for businesses with a global client base)
4. Emailing
Perhaps another obvious method of communication that can be used when face-to-face is not an option is emailing. This can be in the form of personal emails to clients dealing with specific things. As long as your emails abide by business email etiquette rules then emailing remains a great way to stay in touch with clients and exchange information.
Businesses can also do bulk email newsletters to their client base. Of course, we all know that clients must have opted in to receive these and they must provide value to clients. So, instead of meeting with all your clients to let them know about a new product launch, perhaps you can put together a comprehensive emailer with great audiovisual content and fantastic copy. The advantages of email marketing are:
Insightful metrics

Increase website traffic

Keep brand top of mind

Improve brand credibility

Boost sales

Targeted, creative content
5. Social media
You're probably thinking that social media is also reserved for personal relationships, but social media is becoming more and more pivotal for businesses. If face-to-face meetings are not possible then you can definitely stay connected with your client base by ensuring you're engaging with them on your social media channels. For example, if you have chosen Instagram as your main social media channel then you must make sure you keep posting about what you as a business are up to, but also make sure you're keeping up with what your clients and their businesses are doing. Encourage engagement and commenting through your posts. Advantages of using social media for business include:
Improve brand loyalty

Increase brand awareness

Increased website traffic

Improved customer engagement

Improved SEO
6. Online project management
If you deal with your clients on a project-by-project basis then using an online project management tool is a great way for you to stay connected without having to constantly meet face-to-face. This software solution enables everyone involved in a project to see relevant tasks, who the tasks have been assigned to, task deadlines, comments on tasks and so much more. Some great online project management tools are Trello, Monday.com, Basecamp and Milanote. The advantage of such tools are:
Real-time project status information

Encourages team collaboration

Helps individuals see the bigger picture

A better understanding of the work involved in each project

Easy access to files and necessary information
Well, there you have it – at least six options to consider instead of face-to-face meetings. Fortunately, we live in a world where there are many digital communication tools available for us to use – personally and professionally. Digital communication is generally more cost-effective, convenient and productive.
If you need assistance with setting up your digital communication efforts, please email [email protected].
Looking for a digital solution?