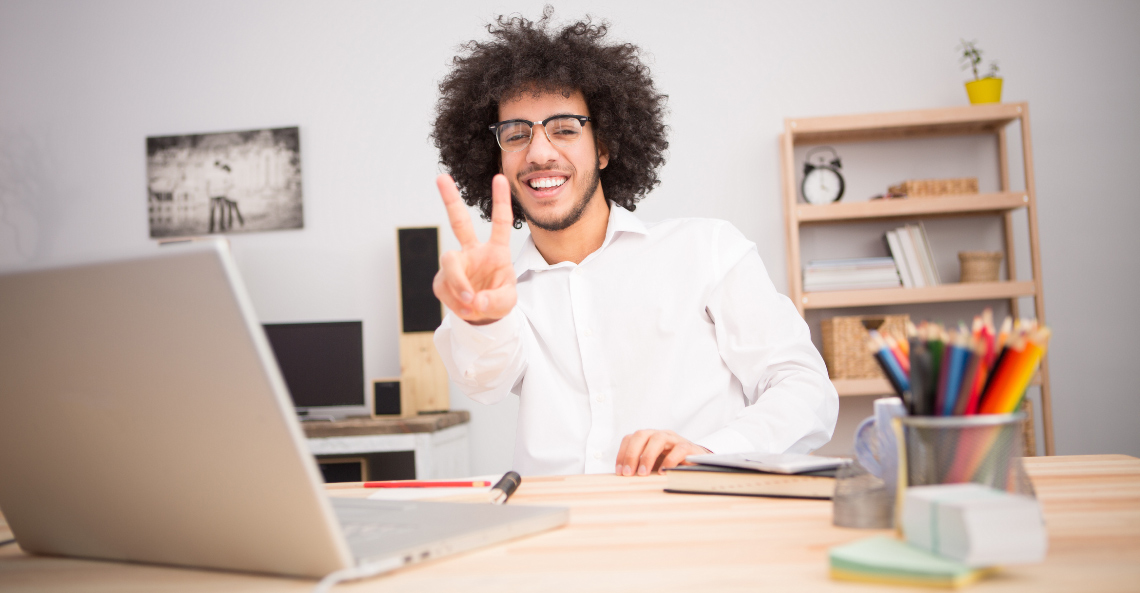 Web design tips for beginners to use
If you're new to the website and design arenas, here are a few web design tips to keep in mind.
Web design tips 101
1. Start with a professional logo
The first of our web design tips is to look at the design of your logo first. Your logo is the foundation to your website, so ensure you have a professional logo. This excludes all logos created in Clipart or Paint or made by some relation you hardly know.
Make sure it's located prominently on your website. Use a high-quality image for your logo and take retina screen into account. Another good practice would be to link your logo back to your home page so that visitors can easily navigate to it.
2. Use simple navigation
Allowing users to easily navigate your website is essential. The menu highlights key areas of your website that users can visit. It's important to ensure visitors can easily find what they are looking for. Complicated navigation systems create way too many options for people, so much so that they may decide to leave your site altogether.
Placing tons of links in your navigation menu, sidebar, blog posts, and even the homepage may seem like a great way to keep people on your site, but it can actually go the other way. Placing fewer items in your navigation menus and eliminating sidebars are great ways to cut down on the amount of clutter that exists on your site.
If users cannot find what they're looking for, they have no reason to stay on your site. Instead, they will certainly bounce and find a competitor that offers a better user experience.
3. Include social sharing
If you are seriously about your website you need to be creating content. Producing great content and offers only go so far if you aren't giving your users the opportunity to share what you have. Allow users to share the current article they reading by simply clicking a social icons and sharing directly to that channel.
4. Use larger fonts
The reason for this is because you really want to get your reader's attention and place the focus on your content. Readability on smaller screens, such as mobile devices, has played a huge role in this trend's rising popularity, but it also fits in nicely with the ever-popular minimalist and flat design trends.
Just make sure you focus on choosing a web-friendly typeface that scales well, rather than agonizing about which size to choose.
5. Implement CTAs (Call to Actions)
Once your visitors land on your site, do they know what to do next?
A call to action is one of the many ways to indicate to your visitors the next step they should take. While many of us know that, it can be easy to fail to accurately use them to guide users through your website.
6. Use white space
Too much clutter can truly distract readers and make sites seem a lot complicated than what they actually are. That's one reason why reducing the use of sidebars and sliders is recommended. However, you should also try creating more space in general rather than trying to include as many elements as you can on a page. Again, it helps a reader focus on what's important.
If you would like to find out more about white space have a look at what is white space in website design?
7. Mobile friendly
Mobile device usage continues to grow, especially when it comes to accessing websites. This means more and more users are accessing your website on their mobile devices. It is essential to make sure your website is easily viewable on all popular devices.
8. Quality imagery
Upgrading the quality of your images on your website will elevate the perception of your website. Don't simply use free images that everyone has access to, possibly look at premium stock image services like Shutterstock. Or even better commission your own image or videos from scratch.
It's always best to keep abreast of current web design trends before you get going on your new website. We hope these web design tips give you a good idea of what to expect. You know who to call if you need more web development and/or design assistance.


Talk to us