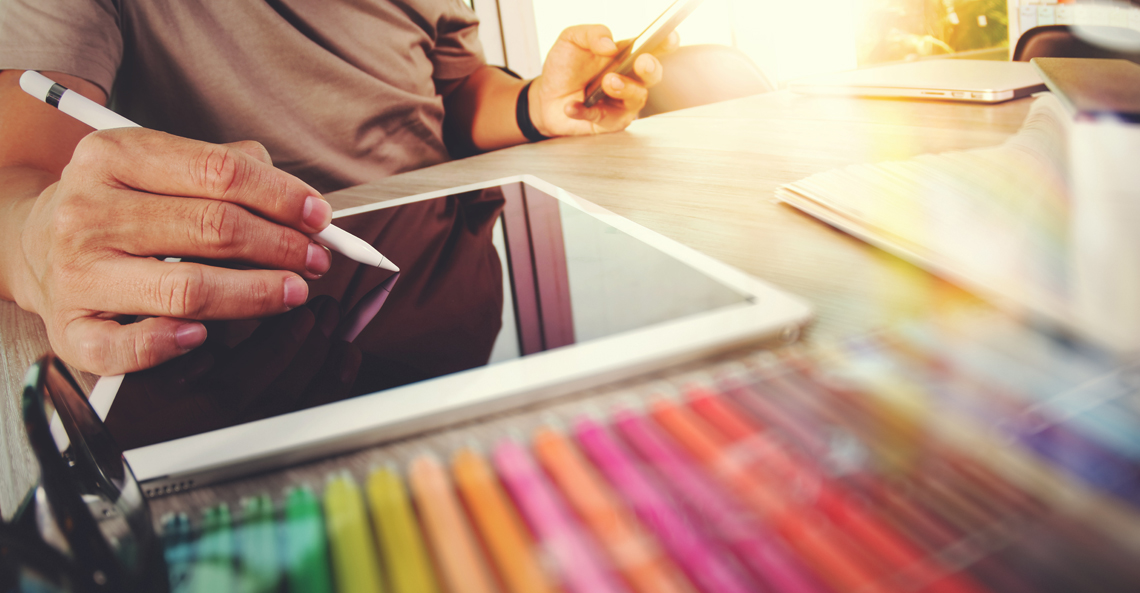 South African web design trend predictions: 2018
The start of a new year always sparks the "what's next?" conversation. Web design trends don't ever start and end, but rather evolve. Some of 2017's web design trends are still making waves and don't seem to be moving off the South African radar just yet. It looks like asymmetrical and broken grids are breaking up some of the boring one-page and grid-heavy layouts we have seen so much of in the last few years. Shew! As always, technology is the main driver behind what we think is the biggest South African web design trend for 2018 – mobile first.
Our top South African web design trend predictions are:
More and more mobile
As mobile web traffic continues to surge ahead and change conventions, UI designs are increasingly created for mobile first with a web interface following as a secondary design application. Highly responsive web designs are no longer optional. In a South African context, where the term 'smartphone' is very broad, market research and device testing become paramount to launching a website that works for your users. Is your website mobile friendly? looks at three main reasons to focus on mobile and gives a great tool to check if your website is up to scratch. Onedayonly.co.za is an office favourite here at Flicker Leap and works really well on all platforms. Go check it out.
Custom illustrations and photography
Stock photography has really taken a bashing over the last few years. Let's be honest, South African websites boasting images of blonde, blue-eyed business people are well… no. The good news is that the use of custom illustrations is a definite design hit for 2018. The other thing we love about illustrations is that they can often be done on a smaller budget than a full photoshoot. I have long admired Dropbox's custom illustrations and in 2018 other brands can take full advantage of this trend and develop their own unique style. Did I mention they are also great as animated content for our next trend?


Animated illustrations and cinemagraphs
If you have spent any amount of time on the web, you would have witnessed the rise of video. Again, the South African context plays a role when you create your content. While our data prices remain high and coverage intermittent, cinemagraphs are a fantastic inbetween for our market. Animated gifs, pngs or low file size videos for the win! Builders Warehouse have already jumped on this bandwagon – have a look at builders.co.za.
Meaningful scroll-triggered animations
Parallax is so five years ago, but they have evolved into a whole new level of awesome. Our firm favourite from the design guru's at Mac (have a look here) beautifully unpacks their products as you scroll. Awesome! Animating CTAs and other important information can also bring a new level of interest and engagement by drawing a user's eyes (and fingers) to those all important steps in your user journey.
Bold choices for colour/typography
This trend seems to be on repeat, but we are ok with that. Go big, go bold! South Africans are generally bright, colourful people, so this trend really speaks to us as a nation. The South African Breweries website is big and bold, just like the brand. We love it.
Do you have any other South African web design trend predictions?
IOT, AI and machine learning are taking over the rest of the world and these are the areas our design and web development teams will be 'watching' closely in 2018. South Africa, on the whole, might take a little longer to catch up on this trend, but that doesn't mean it's not coming soon.
Pantone's colour of the year 2018, Ultra Violet, sums up our hopes for 2018. They have defined it as:
"A dramatically provocative and thoughtful purple shade, PANTONE 18-3838 Ultra Violet communicates originality, ingenuity, and visionary thinking that points us toward the future."
We look forward to a year of innovation and visionary web design solutions. Give us a call if you want to look at the application of a South African web design trend within the context of your own brand or business.
Looking for a digital solution?