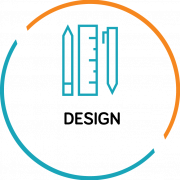 We have a team of diversely qualified designers specialising in effective website, corporate identity, packaging and printed graphic designs; as well as original multimedia designs integrating video, sound, still images and animation. Our aim is to build the best UI and UX designs, no matter the application.
Building a Brand
The advantage of a digital agency offering exceptional design is that brand consistency can be maintained across all platforms – from digital to physical. The result for clients is a back-end that works, a front-end that is beautiful and an overall experience that is prodigious. If you need an all-round design solution for your business, from website to billboard design, our experienced team can come to your rescue.
We believe that a solid digital presence begins with a compelling corporate identity (CI). This entails logo design, typography, iconography and photography, which come together to create a strong brand – online and offline. This CI is not only applied across digital marketing collateral and corporate stationery items like business cards and letterheads, but also more broadly in the traditional marketing environment. Our creative team are master layout designers, so there is no need to go elsewhere for your magazine, signage, billboard, packaging, flyer and brochure designs. Using Adobe InDesign, Photoshop and Illustrator, magic happens at Flicker Leap.
Embracing Multimedia
In a digital environment, it's vital to engage users on a number of different sensory levels, which is why multimedia design is paramount. Multimedia brings various media together to create a unified, brand consistent visual language across all content platforms. We are professionals at combining graphic design, photography, illustrations, animations, video, audio and other interactive content to produce captivating multimedia collateral. We're an animated crowd, so we love bringing brands to life with animated adverts, infographics, documents and videos using Adobe After Effects and other multimedia design programmes.
Focussing on UX
Our top concern is user experience (UX) design and making sure the user journey is intriguing across all brand touchpoints. UX refers to the experience a user has when interacting with your website, app or other digital content. We therefore prioritise intuitive layout designs to optimise the user's encounters with brands on both desktop and mobile devices. What will the emotional reaction be when a user clicks on your menu, consumes your content and explores the layout of your information? Flicker Leap defines strong brand associations by carefully considering who the end user is and how best to arrest their attention. Specific user experiences are then crafted, tested and refined through an iterative development and design process.