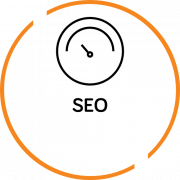 We're focussed on achieving perfect on-page search engine optimisation compliance with ever-evolving international best practices. We also believe in the improvement of off-page SEO through inbound marketing and backlink building.
Get your business on top
Search engine optimisation (SEO) is the optimisation of a website's technical architecture and content to maximise its organic or free traffic from search engines like Google, Bing, Yahoo and other search engines.
It is a strategic way of obtaining a higher ranking on a search engine results page (SERP). The closer your business is to the top, the more click-throughs you will see and the more business you will generate. Flicker Leap provides comprehensive and ongoing SEO for all our clients. Our team of gurus expertly optimise on-page and off-page SEO to secure constant traffic to your websites.
unassailable digital solutions