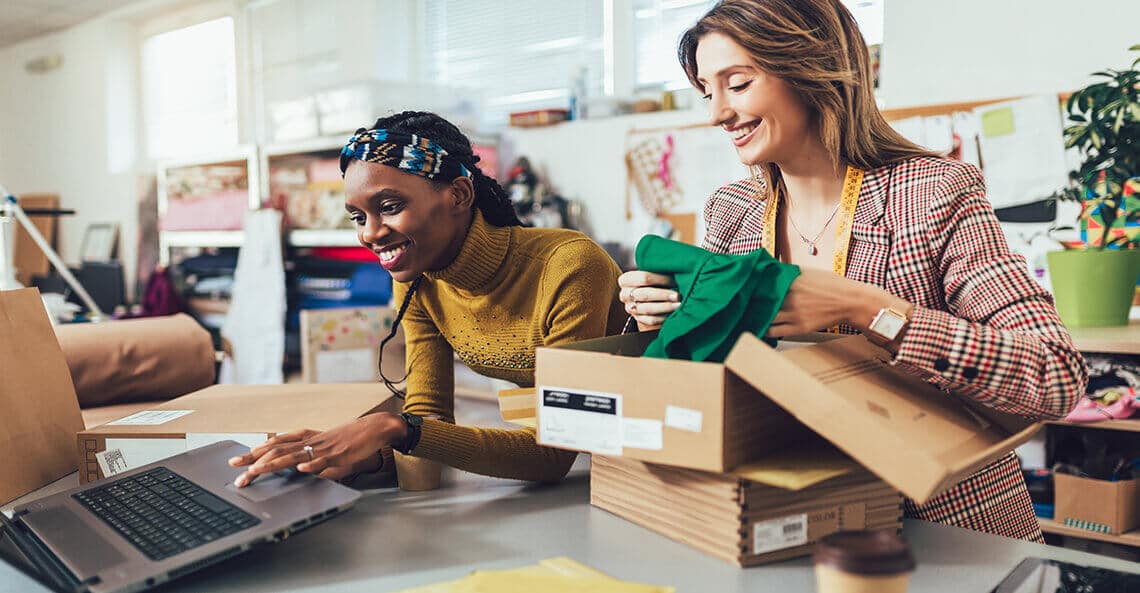 Ultimate guide to launching online stores in South Africa
Digital is an exciting space in South Africa, and it continues to get more thrilling every day. Moving your business online is no longer a nice-to-have, but an essential part of everyday business. One element of the digital space is selling products and services online. This has seen a rise in popularity because of the convenience it offers consumers and the cost-effectiveness it offers businesses. Not to mention the ecommerce boost we saw following the Covid-19 pandemic. An increasing amount of South Africans are browsing online stores and purchasing products without even walking into a traditional brick-and-mortar store, especially when viruses are lurking about. This makes the idea of launching online stores appealing to any business owner, particularly if you already have a store. We deal with clients on a daily basis who are interested in launching online stores in South Africa, so we've put this ultimate guide together. If you're a retail business owner with a traditional brick-and-mortar store, a manufacturer with existing or new products or an entrepreneur with a great idea then this guide is for you. It takes you through everything you need to consider before successfully launching online stores. The eight steps will cover important decisions that you will need to make along the way.
8 steps to launching online stores in South Africa
1. Running your online store
Before we jump into the specific features needed when launching online stores, let's talk about the actual day-to-day running of an online store – this is often something that is only thought about when the store has already been launched or when things go wrong. It's best to consider upfront what the process is going to look like when an order comes in. Who receives the orders? How will they approach orders? Do you have the stock on hand to fulfil the order straight away or are there other things that you have to set in motion with each order? What do you do when a payment does go through or doesn't go through or doesn't get made or is cancelled by the customer? Having a clearly defined order management process will save you time and money. Remember, a lot of people buy online because it is fast and convenient. So if you spend a couple of days dilly-dallying then you will have angry, and most likely non-returning, customers on your hands.
With that in mind, the next thing to think about before launching online stores is how you're going to deal with customer queries and complaints. It's not a case of if, but when the queries and complaints come in. It's important to ascertain who is going to deal with them and how they're going to be dealt with. Now if you're already feeling overwhelmed by all these decisions, it's always a good idea to look at the Amazons and Takealots of the world to get some insight into how they deal with things. Your advantage, of course, is that you can provide more of a personal approach.
2. Ecommerce platforms
Once you have fleshed out the ins and outs of how you will run your store, it's time to think about the platforms you will run your store on. In the past, if you truly wanted an ecommerce store that separated you from competitors, you'd have to build a platform from the ground up. However, over time a number of prebuilt solutions have been developed, which has allowed new businesses to effectively begin launching online stores quicker. When you're looking for an ecommerce platform, here are a few things you need to think about:
Reliability – will the platform be able to handle the number of people that will visit your store?
Security – will your customer's experience be safe and secure, and will your data be protected against maliciousness?
Management friendly – will you be able to quickly and easily add products and make changes to your configuration?
User-friendly – will your store provide customers with a great experience and allow them to easily purchase your products?
Extendable – will you be able to add new features over time that enhance your customer's experience and drives more sales for your business?
Search optimised – will your store be correctly set up for search engines?
These important questions will lay the foundation for your entire online business. Some of the best ecommerce platforms include WooCommerce, Magento, Open Cart, Shopify and BigCommerce.
Ecommerce platform technology usage distribution in the top 1 million sites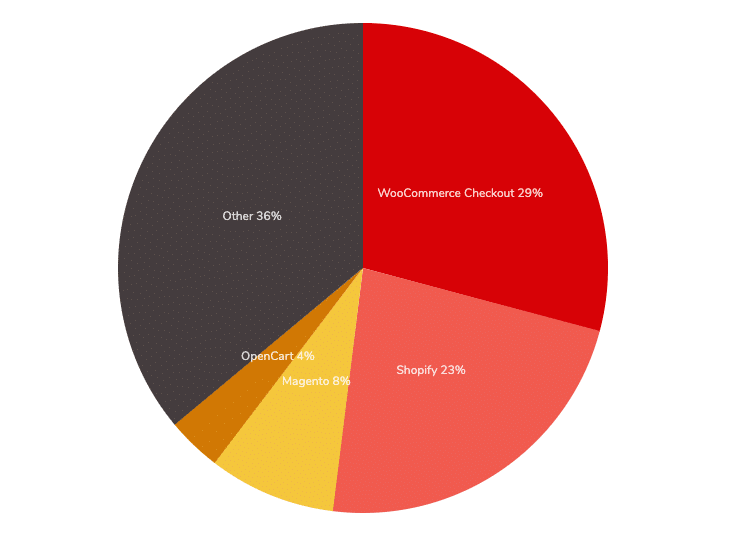 Source: BuiltWith
3. Payment methods
This is an important topic when launching online stores. You need to generate revenue as cheaply and efficiently as possible, whilst instilling confidence in your customer as they're about to let go of their hard-earned money. There are a lot of payment gateways that will allow you to do that, but they're not all made the same. When looking for a payment gateway, here are a few things to bear in mind:
Security – how does the payment gateway protect a customer's payment data and protect you from fraudulent transactions?
Reliability – how many transactions can the payment gateway handle on a daily basis, especially during sales periods?
Fraud – how does the payment gateway handle potentially fraudulent transactions whilst not chasing away customers?
Methods – how many payment methods does the gateway support and does it suit your target market?
Integration – how easily will you be able to integrate into the payment gateway from your ecommerce platform?
Fees – how much will you be charged on a monthly basis and how much will you be charged per transaction?
Merchant – how does the gateway work with the banks, i.e. do they need you to have a merchant account (laborious) or do they handle it for you?
Payout – how often does the gateway pay you out (if you have a merchant account with the bank it should be instant)?
Getting money into your business is important, but so is saving time and money. A few of the top South African payment gateways include PayFast, PayGate, PayU, and Peach Payments. Besides using payment gateways, there are also the more traditional payment methods such as electronic funds transfer (EFT) and cash on delivery (COD).
4. Shipping solutions
Shipping your products in South Africa presents possibly the toughest issue to decide on when launching online stores. Getting your product to your customer needs to be quick and hassle-free for you and your customer. One of the challenges that exist in the supply chain is deciding whether to store your products on a premises to ship as soon as they need to be or have relationships with suppliers that allow you to ship from them to your customer, known as drop-shipping. Both solutions have their pros and cons, although because storage space in South Africa comes at a premium and a large majority of the population don't use ecommerce, drop-shipping is a great solution.
Drop-shipping
Pros
You don't need to purchase stock beforehand, so you don't have to worry about forecasting sales and holding stock that never sells.
You don't need to pay for and manage a storage facility to store your stock.
You don't need to get insurance for stock on hand as you do not carry any.
Cons
You rely on your supplier to package the product professionally.
Pricing may fluctuate from the time of the customer's purchase resulting in small margins.
If multiple products are ordered from different suppliers, shipping costs will increase.
Traditional supply chain
Pros
You manage and control the shipping and making sure products that leave are top quality.
You can quickly ship without having to order from your supplier (if stock is on hand).
You set the price of your purchased stock, which is important if it's affected by the exchange rate.
Cons
You have to manage and pay for a storage facility to store your products.
You need to get insurance against fire and theft for your stock on hand.
You need to predict sales on products and run the risk of holding stock that never sells.
A third potential solution to managing the supply chain would be to use a third-party warehouse and fulfilment service such as ParcelNinja. Once you've decided on the logistics method you will go with you can look into the various shipping providers. One thing to think about here is that different regions have different providers that lead the market. So in Cape Town, you may get a better price using a certain courier locally, but when you need to ship to Johannesburg then using another provider would be better. Some examples of local and international shipping providers are Dawn Wing, Fastway, DHL, FedEx, RAM, PostNet and Aramex.
Once you've decided how you'll get the product to your customer, you need to decide how much you'll charge your customer. Most try to avoid passing on the cost of shipping to the customer to make buying online seem more appealing. However, this isn't always possible, especially on low-cost items. Here are a few options you have when it comes to charging your customers:
Charge the entire cost to the customer – you can pass the whole cost onto the customer. This is particularly useful if you're unable to create big margins in competitive markets. It does require the ability to connect to the courier's up-to-date pricing tables.
Charge a flat rate to the customer – you can make educated guesses and find the average cost of delivery per order or per item. This is great if you want to try to keep shipping charges low, whilst covering yourself for small orders.
Free shipping over an amount – if you're using either of the above methods, you could also start offering free shipping to customers once the order's profits cover the shipping costs (generally over x amount of order value).
Free shipping entirely – if you're looking to get your store out to market aggressively then it may be worthwhile to sacrifice big profits for market share and get people buying from your online store because shipping is free.
5. Design and user experience
First impressions definitely last and making your brand come across as trustworthy is key when launching online stores. Once you've built trust, you need to focus on making the user experience as fluid and friendly as possible. One way of building a great customer experience is to follow current design trends as people generally form habits around what they're used to. However, occasionally adding an element that distracts them from their habits is a good way to get their attention.
Another important method is creating a consistent experience for your customer. If you have a store with multiple products, make sure the "Add to Cart", "Checkout" and "Payment" buttons are similar and instil the notion of taking action with the user. Changing colours of buttons from one view to the next means that your customer may not immediately know what to do next or, worse, may do nothing at all.
That being all said, user behaviours are not only continuously changing, but they're also different for every market. It's important to measure your visitors using heat maps and analytical tools to fully understand how they are using your online store, what is leading to sales and what is leading to missed opportunities. If you don't have the technical knowledge or creative expertise to implement this, you can either buy a premade theme, hire a group of professionals or outsource this to a company that specialises in ecommerce.
6. Enhanced features
In certain circumstances, you may need to add a feature or enhancement that falls outside the normal feature set of an online store. The normal features would be product management, stock management, order management, a shopping cart and checkout. It would be a good idea to look at your new business (if you're a startup) or existing processes (if you're an established business) to see what you would need to further integrate into your online store. Some examples are:
Digital downloads – will you be providing software or digital resources that people will need to download?
ERP integration – will you need to integrate into an existing ERP (Enterprise Resource Planning) system?
Warehouse management – will you need to manage stock levels via warehouse management software?
Marketing automation – will you be connecting your online store to third-party marketing tools (more on this later)?
7. Hosting infrastructure
This is often not given enough thought when setting up and launching online stores, yet it can be the most crucial aspect, especially when you're established. When it comes to hosting your online store, there are two things you need to consider: reliability and speed. The objective of reliability is ensuring your server has the ability to handle many requests at once and can survive a hardware failure (if not prevent one). This means that the hardware must be reliable enough so that it doesn't become a single point of failure, whilst still accommodating the fact that all hardware can fail and if it does what will happen. Most hosting providers have a certain amount of redundancy built-in, although it basically comes down to: you get what you pay for.
With speed, the objective is to serve the user pages as quickly as possible. Amazon has data to prove that every second extra in their page loads equates to over a billion dollars in lost revenue. That's a massive loss of business for just a second. Common issues are either not enough computing power, not enough available memory, slow hard drives or not enough network bandwidth. Whilst most hosting providers cater for network bandwidth, the other three present a constant issue on many websites, especially if they're on shared hosts (multiple websites on one server). Look for a host that guarantees reliability and speed. If you're expecting large amounts of traffic then start looking at building your own infrastructure.
8. Marketing and sales
Launching online stores if wonderful. But they will be nothing without visitors. Just like a brick-and-mortar store requires people to walk through the door, an online store needs people to visit the website. There are two ways to get people to your website: outbound and inbound.
Outbound marketing is the more traditional form of marketing where you "push" people to your website. This includes all the traditional advertising mediums like online ads, TV ad, radio ads, billboards, flyers and other paid-for adverts. The possibilities are endless.
Inbound marketing is designed to "pull" people to your website and can be very effective, especially when it is useful content for your audience. It follows the premise that people are in different stages of the buyer's journey. Here's an overview of how you could leverage where your buyer is in their journey to your advantage:
Attract – someone has a problem that they're experiencing or expressing. You create educational content that helps them understand and give a name to what their problem is.
Convert – someone has identified their problem and is now looking for potential solutions. You create guides on how to solve their problem and position yourself as a thought leader on the topic, which is a great way to get quality leads.
Close – once you've got a lead, it's time to nurture them into customers. You use tools like marketing automation to show your leads that you're the best service provider for the solutions you have suggested with case studies and more content offers.
Delight – you turn your customers into your best promoters. You constantly work hard to please your customers so that they spread the word about your awesome product/service.
Whilst we could go on for days about marketing and sales, we'd like to suggest that you delve into some of our digital insights articles on marketing, especially before launching online stores.
Conclusion
Whilst launching online stores is easier than ever before, we hope we have outlined some important elements for you to consider and implement carefully. Making sure that you've covered all of these elements, and have a product/service people want, you're set to establish a successful online store.
Yes! I have an idea and I need your innovation to turn it into an online store invention!