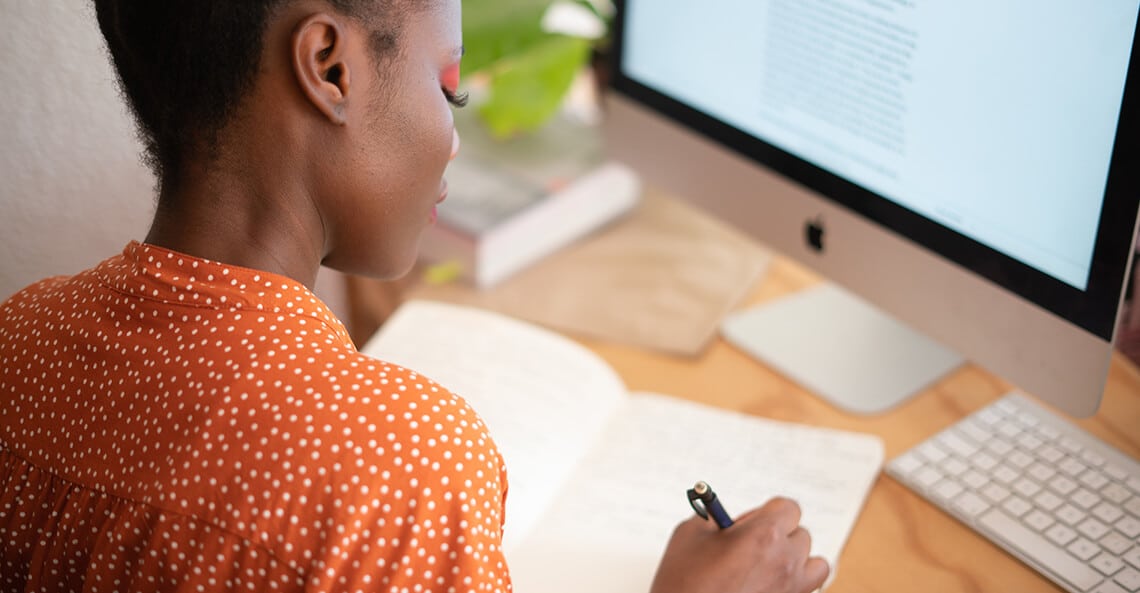 10 tips for productive WFH (work from home) days
Due to Covid-19 and general advances in digital technology, working from home is a lot more common these days. Whilst some enjoy being in their own space (and making their own coffee), others may struggle to be as productive at home as they are when they go into the office. So how does one ensure productive WFH (work from home) days? Let's take a look at some easy tips to help you focus. 
10 tips for productive WFH days
1. Get going early
The earlier you begin your day, the easier it will be to deal with any WFH delays that sometimes crop up (like your lonely neighbour having a long chat with you over the wall about the weather). You will also feel more productive as you take control of your day. Don't delay and don't procrastinate. Get on top of the day before it gets on top of you. 
2. Start with some exercise
A healthy body = a healthy brain. Exercise will help you to relieve tension, kickstart your heart, pump some much-needed oxygen into your lungs and clear your mind for the day ahead. Whether it's ten jumping jacks, ten stretches or ten kilometres, do something. Consider exercising outside of your home as that will reduce cabin fever symptoms. 
3. Grab a cuppa
Perhaps you're used to picking up a cappuccino on your way into the office. Maybe making yourself a cup of tea is the first thing you do before you get to your desk. A ritual as simple as this can help you shift into working mode, so why not recreate something similar to kickstart a productive WFH day? Yes, you can also throw in a rusk if that'll help. 
4. Establish a space to work
If possible, carve out an area in your home that is reserved for work. Ideally, it should be quite separate from your living space. That way, you're not easily tempted to switch modes. When you enter your work space then you engage in your work mode. And since you'll be spending a lot of time in that space, make it yours and make it happy. 
5. Read your list
Before opening your emails or team messaging and project management apps, look at your to-do list. It's easy to get caught up in superfluous work-related things, but this will inevitably result in unproductivity. Stay focussed on what you have to achieve on that day. 
6. Stick to the schedule
Having a schedule, even if it's a rough one, will be particularly helpful on WFH days. Without a schedule, you become easily distracted. Figure out when your most productive times are, when your family needs you and when non-work commitments require your attention to come up with a plan of action that makes sense for you. Be purposeful about your time, and don't forget to factor in some breaks. It might also be a good idea to go as far as blocking time off in your shared calendar so that, as much as possible, meetings don't interfere with your schedule. But it's also important to communicate your schedule with those you live with so that they also don't disturb you during work times. 
7. Avoid distractions
The biggest challenge of working from home is that there are usually a lot more distractions. It's easy to "quickly" unload the dishwasher, water the potplants, iron some clothing, cook dinner, have a nap, pop to the shops or play with your dog. The best thing to do is to set a firm boundary: things that aren't work-related can't be done during work time. It's as simple as that. PS That goes for social media too. 
8. Stop, collaborate and video
Working on your own can get a little lonely. It can also be a bit frustrating as things tend to take longer to progress due to the lack of face-to-face interaction. If you're feeling unproductive then you might just need to schedule a video call with one or more team members. Video calling can encourage collaboration and get things moving. Staying connected to your colleagues is important – teamwork makes the framework.
9. Tune in
There's something a bit eerie about silence, especially if it is just you working in the silence. Some people prefer this golden silence, but it seems like most of us are actually have more productive WFH days when there is music playing. Check out this cool infographic on the positive impact of music on productivity levels. If listening to a music streaming service like Spotify or YouTube Music doesn't work for you then maybe you'd prefer streaming your favourite radio stations – it might feel like you have some more colleagues in the office with you when the DJs jabber away. 
10. Finish for the day
You may assume that being more productive means working longer hours to get things done, but that is certainly not the case. In fact, if you stick to defined working hours then you will be more productive during those hours. Rather than constantly procrastinating and putting things off until "later", you end up pushing yourself to try to get things done before the end of your work day.
Let's hope these tips result in more productive wfh days for you! You can do it!

Talk to us