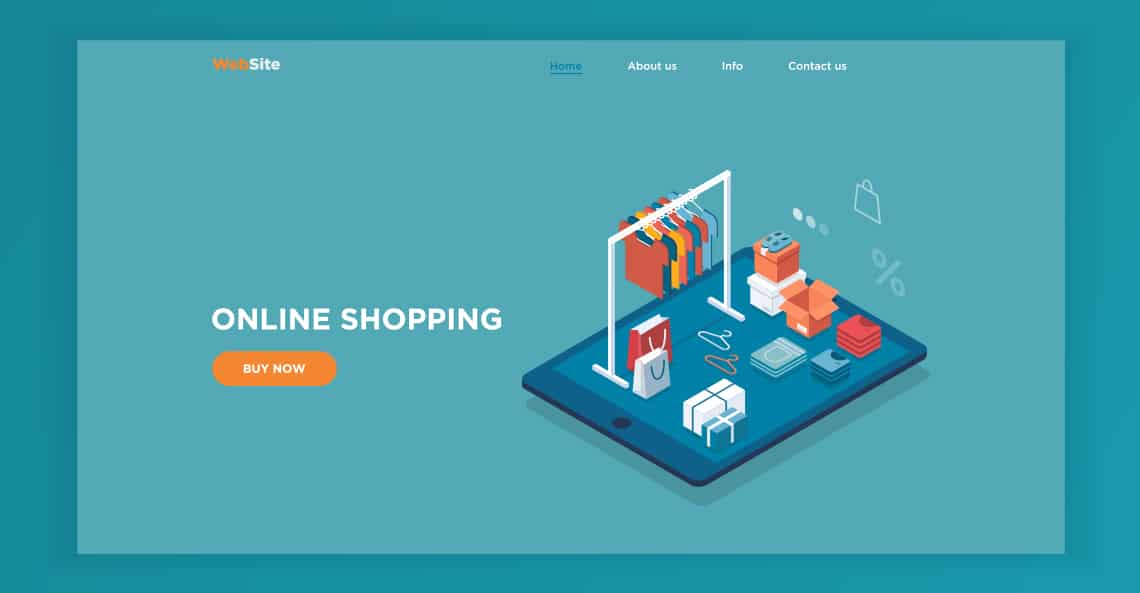 How to take your retail business into the digital space
Retail at its root is selling products to consumers. If the goal for your retail business is to sell more products to more consumers, the idea of taking your retail business digital should make you really excited. Digital allows new and innovative ways to sell your products to a wider consumer base.
In the last few years, large retail businesses have revolutionised the way we shop by creatively taking their stores into a digital space. From simple online shopping to VR experiences to automated checkout – the variety of ways that retail business has gone digital is astounding! But these are generally the retail giants or early adopters. So how do you take your retail business digital and compete in the ever-changing retail sector? You start at the beginning.
Steps to take your retail business into the digital space
Step 1: Build a scalable website with ecommerce integration
This might seem a little obvious, but it is the basic foundation you need to get right to really take your retail business digital. An online store which isn't user-friendly or doesn't allow high volumes of traffic is a sure way to shoot yourself in the foot. A digital retail business needs to incorporate amazing website design and photography, intuitive and simple user experience, and a safe and secure payment partner. All of this should be backed up by trustworthy shipping and amazing customer service. This is not exactly easy. Today's digital world allows retail businesses to choose from a wide range of content management systems that can help you build an online shopping experience relatively quickly and cost-effectively. While there are many options out there, here are our reasons why we believe you should be using WordPress in 2019.
Step 2: Ensure your digital presence becomes part of a connected shopping experience
Make sure your product information, pictures and videos are easily accessible to your shoppers. Always remember that your shoppers may do all their research online, but still choose to come into your retail store to buy your product. Or they may have asked your salesperson a million questions over the weekend and then decide to buy online at 2 AM the following Tuesday. Your retail store will support your digital shop and vice versa, so they must both be equipped to give a potential customer all the information they are looking for.
Your video and product information should become an ever-expanding resource for your potential customers. Think "how-to videos", before-and-after photos, customer reviews, product care information, recipe ideas, lookbooks, Instagram posts from happy users… the list can go on and on. And with a bit of creative thinking, you can create new and exciting content to help sell your product.
Online shopping is often free of human interaction, but that doesn't mean you don't have an opportunity to emotionally connect with your customers and build relationships. You need to find ways to engage your customers to keep them loyal to your product and brand. Brands do this in a variety of ways depending on their brand personality and the type of persona they are selling to. Some brands include free samples or even gifts with their product delivery, tailored to your profile. A handwritten note thanking a customer for their purchase gives a personal touch and shows a level of customer care. Personal is not always possible, but you can follow up with an email checking they are happy with the purchase, which can start a conversation between you and your customer. Use your packaging to encourage shoppers to post and tag a picture of their product on Instagram when they open it.
Step 3: Add some innovation
Once you have started getting your retail business digital, you can begin adding new and innovative ideas to your unique product to make digital really work for you. As with design, where form follows function, digital is no different. Spending time and money on a digital innovation which doesn't solve your shoppers' problems is a waste. Research your shoppers and find ways to make their experience quicker, safer, more reliable, easier, more engaging, more personalised or even just more fun.
Ever heard of "click to collect shipping". This is such an ingenious link between digital and traditional retail shopping. Let your customers shop online and you pack their basket all ready for them to fetch from your physical store at their convenience. A South African service, Pargo, allows you to collect your parcel (or facilitate your returns) through their convenient collection points. You can even look at a model similar to how Makro have tackled the issue of shoppers not always being home to receive a delivery with their "Makro lockers", which allow you to send your order to a locker near you. These practical solutions solve real-world problems unique to the South African online shopping environment.
There are digital technologies you can take advantage of such as virtual tours or online visualisers where you can "try on" a product. We love how Dulux allow you to upload a photo of your room and then test their paint colours on your walls before you buy the paint. Have a look at it here. What an awesome way to take a retail business digital! Just think how much they can save in sending multiple paint samples home with indecisive shoppers with this little innovation?
Imagine browsing all the items available at a store on your mobile phone while walking through the mall to get to that store, and when you arrive all your items are neatly waiting in the change room ready for you to try on. I don't see why that would be a problem?
What about self-checkout? There is nothing stopping you from creating your in-store checkout as a digital process for your retail store customers.
Ever thought about creating an interactive experience in your stores where customers can use virtual reality to experience your products? Virtual change rooms anyone? Or take virtual test drive on some of the world's most scenic roads? Maybe your customers are looking to design their own unique pair of sneakers that you can bring to life for them?
So, which step are you on in the journey to get your retail business into the digital space? We can help you set up an ecommerce website and we love delving into the innovation space where new and exciting digital ideas come to life. Give us a call if you would like us to help you take your retail business into the digital space.

Talk to us