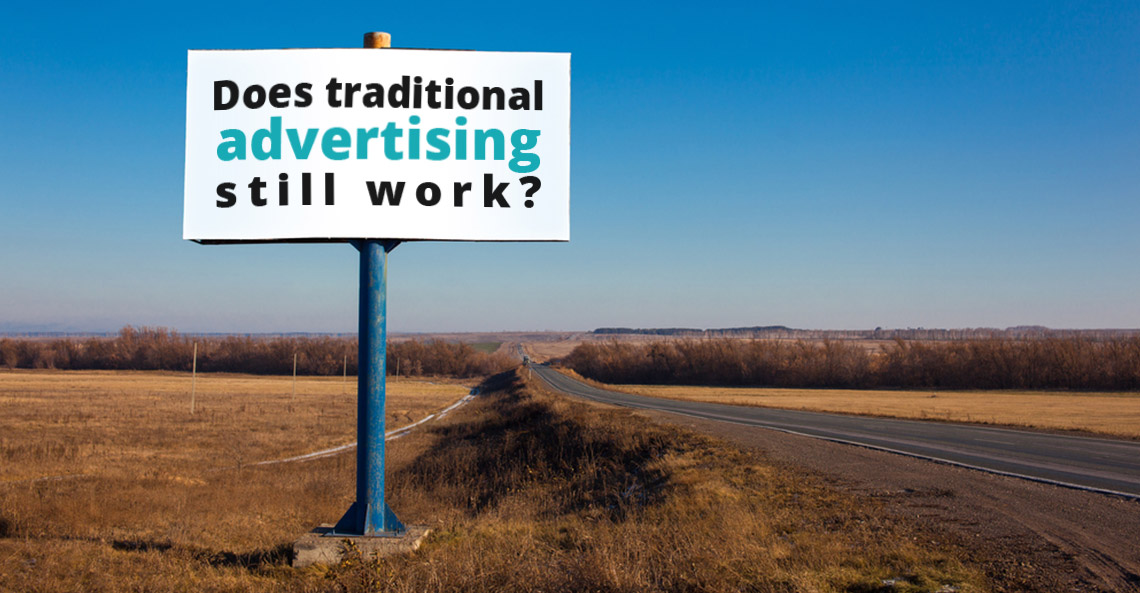 Does traditional advertising still work?
When it comes to marketing your business, you're presented with a large range of advertising solutions. These include traditional advertising methods such as billboards, flyers and TV / radio adverts, as well as digital marketing options like SEO, PPC and display ads. Marketers and business owners have varying opinions on what they think is best for them. There still seems to be a preference for more traditional mediums, but does traditional advertising still work?
It helps to first identify objectives of any form of marketing activity. What are you trying to achieve when you start a new campaign? Then you need to decide how you will quantify or measure your efforts. This is usually where misconceptions of one medium working better than another come into play. For example, a billboard may not increase sales directly, but it does increase brand awareness – so it is hard to measure the effectiveness of a billboard if you're measuring it against sales.
Let's look at the buyer's journey to uncover exactly why most traditional advertising campaigns fail. Buyers are generally attracted to a business through different forms of advertising. Once they've been attracted you need to convert them into leads by positioning yourself as the leader in your product or service industry. Lastly, when they've been converted you need to close a sale by showing that your product or service will fulfil their needs and help them meet their business or personal objectives. So where do the more traditional mediums fail? Let's go all the way back to the attracting phase of the buyer's journey and use an example to illustrate this.
You're driving down the highway and see a billboard for short-term insurance. The billboard may be designed brilliantly and have a captivating message, but would it make you ready to buy that brand? The answer is no. You see, there are many short-term insurance brands and a billboard isn't going to make you pick one over another. This is where many traditional campaigns fail because the marketer hasn't thought, "What next?"
Traditional advertising can only work if it is integrated into a marketing strategy that includes ways for buyers to move further down the buyer's journey. If you're using a billboard to build brand awareness then create a customised microsite or landing page for that campaign to see exactly how many people take action. Bear in mind that a billboard might not lead to action straight away.
There is no substantial data that shows traditional advertising is dying. However, traditional advertising with not objective and game plan is dying. Brands are wasting a lot of money on traditional advertising campaigns that do not integrate inbound marketing strategies. Always remember the buyer's journey and use methods to help meet your objectives at each stage of the buyer's journey.