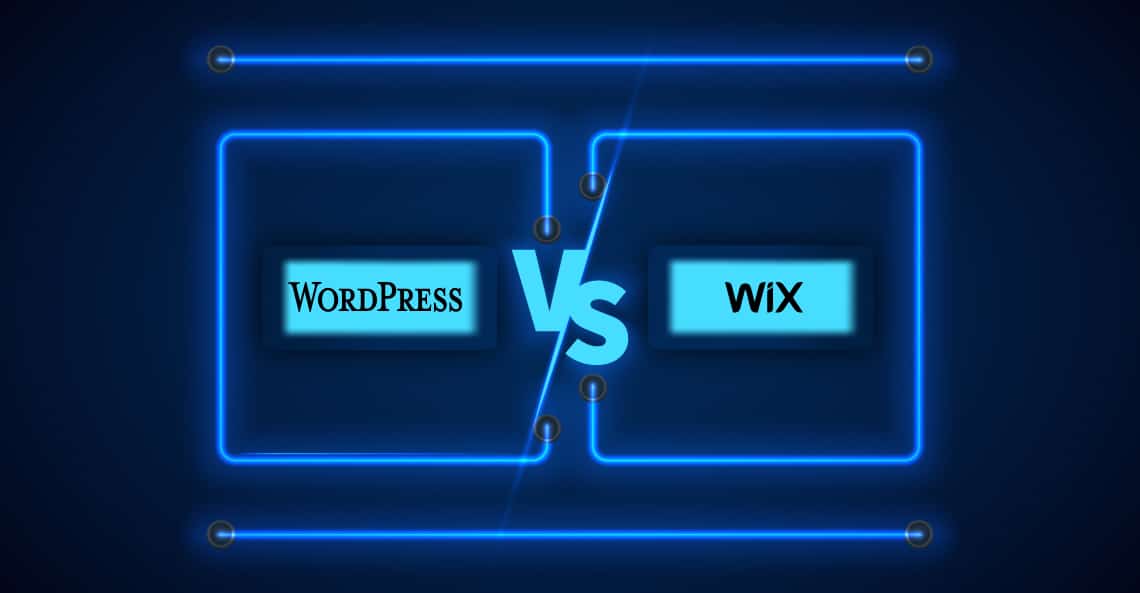 WordPress versus Wix: the development debate
Are you trying to decide which website building platform is better between WordPress and Wix?
Picking between WordPress and Wix is not an easy decision, especially when there is so much to understand about these two platforms. These two website builders are big names, both have become quite popular over the years. So let's take a closer look at WordPress versus Wix.
Not quite sure what WordPress and Wix are? Here is a little overview on the two platforms.
What is WordPress versus Wix?
What is Wix?
Wix is a free user-friendly online website builder that caters for people with basic to no knowledge of web development. There is a wide variety of beautiful website templates to pick from and you'll be able to achieve that professional look, without having to touch code at all. At the moment, Wix is responsible for about 1,1% of all the websites on the internet.
What is WordPress?
WordPress is open source online software you are able to use to create stunning websites and blogs. It is also a versatile and easy-to-use content management system tool. Currently, it powers about 33% of all websites on the internet.
Now that you have a basic understanding of these platforms. Let's dig a little deeper and find out how WordPress versus Wix match up against each other when it comes to essential aspects to take into consideration when developing a website using any type of website builder.
WordPress versus Wix: key considerations
Ease of use
Wix – Wix has a fairly simple, easy-to-use interface. It's user-friendly, easy to set up and mainly involves dragging and dropping of elements. This platform makes the process of building and publishing your site painless and intuitive, especially for complete beginners.
WordPress – WordPress isn't as user-friendly or as easy to use. Building a website in WordPress requires a little bit of technical knowledge as it does not provide that streamlined workflow, which makes it a little more difficult to use than Wix.
Which is the better option?
Wix wins this one. Wix's built-in drag-and-drop functionality, amongst others, makes it easy for anyone to use. WordPress is more powerful, but a bit more complex. You are able to get a drag-and-drop functionality in WordPress, but only from a plugin.
Design
Wix – Wix comes with more than 500+ pre-made fully customisable templates, that are divided into multiple industry categories. All templates are written in HTML5 and are fully responsive. As much as Wix has some amazing templates, there is one big disadvantage… once you have selected a template, you cannot change it. You're able to customise it using the built-in tools, but changing the template is not an option once you have picked one.
WordPress – With WordPress, you are able to get a hold of thousands of different themes, which can be found on the WordPress.org theme directory or on independent marketplaces and theme shops. There are free and paid themes available. WordPress allows you to switch themes at any time if you are not happy with the theme you have chosen. There are built-in tools to further customise and modify the theme as you like. You are able to make use of a variety of styling plugins to further style your WordPress theme.
Which option is better?
WordPress is the winner. WordPress has a larger variety of themes and designs to choose from. You also have the ability to switch themes and are not restricted when it comes to customisation.
Search Engine Optimization (SEO)
Wix – Wix has a variety of easy-to-use SEO features built into it, which allows you to make changes to your basic SEO features, such as meta titles, meta description, headings, custom URLs, sitemaps, etc. However, there are apps that are able to assist with advanced SEO. One of the popular ones is Site Booster. Site Booster can provide improved SEO ranking, better listings on various search engines, target keywords and even performance tracking.
WordPress – WordPress offers basic built-in SEO features, that still enable you to fully configure your website without help from a third-party plugin. Although WordPress has a plugin called Yoast SEO amongst others, which allows you to alter titles, meta descriptions, meta tags, image alt tags and other built-in SEO features. This plugin has the ability to improve your site's performance and speed, as well as your SEO ranking online.
Which option is better?
This one is a tie. Both WordPress and Wix offer basic built-in SEO tools, and both offer apps or plugins for advanced SEO features.
Costing
Wix – Wix is a freemium site builder, this means they offer a free and premium option. Both the software and hosting is included in the free option. However, the free option does have a few downsides to it:
– Wix adds branded advertisements on your website.
– You are unable to use a custom domain name for your site.
– You are restricted to limited bandwidth and storage.
– Only allows a single site on this plan
You can avoid all of this by going for one of the premium packages.
WordPress – Even though WordPress is free for anyone to use. It is the hosting that requires payment. There are numerous hosting companies and packages that all vary in prices and features. There are packages offered by WordPress for additional tools, features, themes, storage, etc.
Which is the better option?
This one is a tie, as it's a hard call. Wix has a set monthly price, whereas WordPress prices can vary depending on the site that is being built, as it depends on the extras as well as hiring a developer (if needed).
By now you should have a better idea of the WordPress versus Wix debate, and what they are all about, their differences and how they work. Both have their pros and cons, and you are able to create a fully-fledged website using either platform. WordPress is more powerful and flexible, whereas Wix is easier to use and a pleasant experience all-round. Essentially determining which is better would depend on the size of the website, budget and your overall website or blog needs.
If you'd like to find out why we at Flicker Leap prefer WordPress in the WordPress versus Wix debate then give us a call.

Talk to us