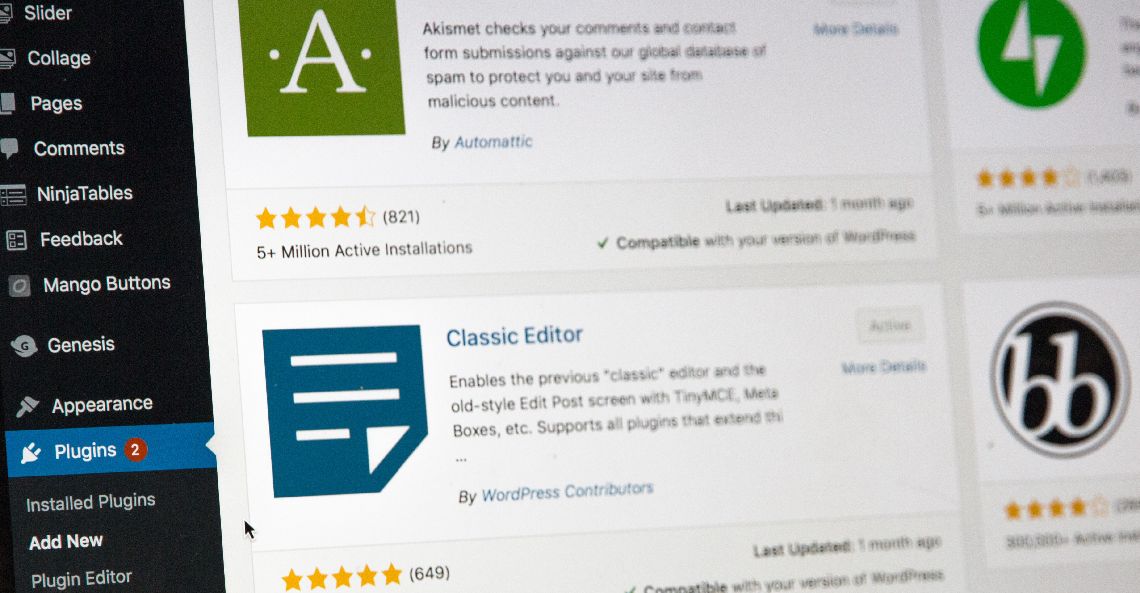 Why updating plugins is so important
If you have a WordPress website then you will be familiar with the word "Plugins", which is a key item on the WordPress backend. It is easy to add plugins to websites – almost like adding apps to your phone. But, like apps, plugins are frequently updated and we are often encouraged to download the latest version. But is updating plugins really necessary? Let's look at why we think it is absolutely important to keep the plugins on your website up to date.
3 reasons why updating plugins is so important
1. Improves speed
Site speed is pivotal these days, so a lot of plugin updates aim to improve their impact on website performance. Speed plays a central role in SEO (search engine optimisation), so you should definitely grab any opportunity you have to optimise your website. Everyone, not only Google, knows that a fast site will keep your visitors engaged. Anything that slows your website down must go… or be updated as soon as possible.
2. Improves functionality
The latest version of a plugin is the best version. When downloading a plugin, you don't opt for an older version. In fact, older versions are usually not even available for download. Updated plugins have improved functionality, which inevitably improves the overall functionality of your website. Whenever plugins release updates, it often comes after a period of research, user feedback, testing and a lot of development. If there is something you don't like about your current plugin, perhaps the update has fixed your frustration.
3. Improves security
The advantage of WordPress as an open source platform is that developers are able to create plugins and themes that work with the platform. The downside is that because the code is publicly available, security vulnerabilities can be exploited. Plugin updates, therefore, almost always include security improvements and bug fixes.
Well, there you have it. Updating plugins is important because it improves the speed, functionality and security of your website. Delaying something as simple as updating your plugins can slow your site down, frustrate you (and your visitors) and leave your site open for a hacker attack. If you don't have someone on top of the task of ensuring your plugins are up to date then our current clients can sign up for our Website Care Package or give us a call to see how we can assist you. Or if you have a question, send us a message.
Looking for a digital solution?