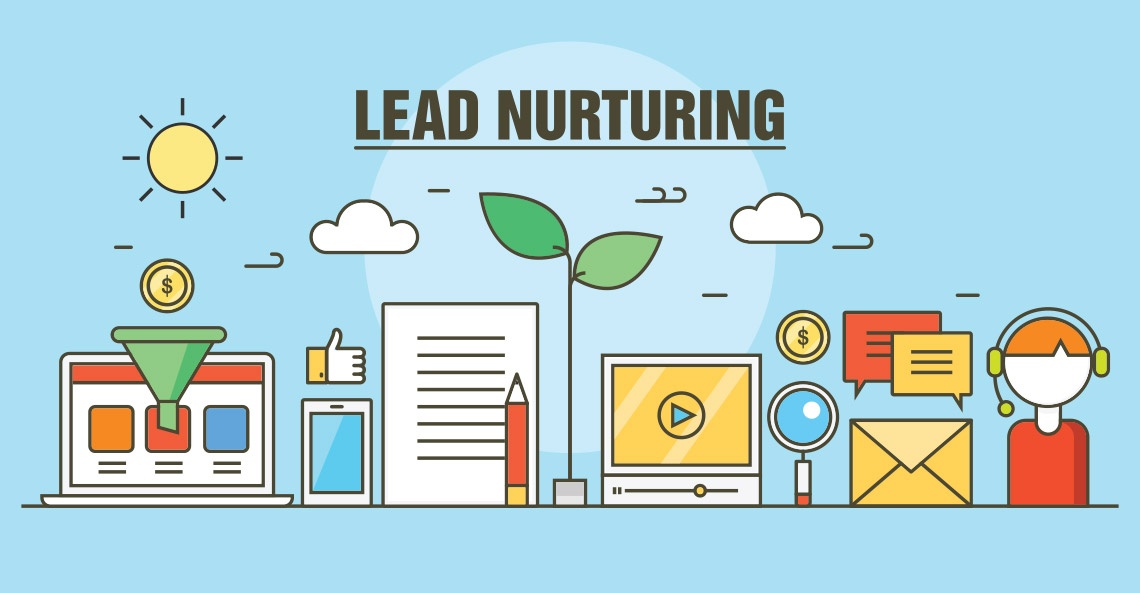 How does lead nurturing work?
Effective lead nurturing is crucial in any inbound marketing strategy or campaign. Lead nurturing is when a company develops relationships with potential customers during every stage of the sales funnel process. Lead nurturing concentrates on communication and marketing efforts, including listening to what prospects need, and then providing them with information to address any queries they may have.

Also called 'drip marketing', lead nurturing is one of the most powerful and highly desired features of any given marketing process. When a potential customer reaches a certain stage in the funnel, a response is triggered, whether or automated or personal, which helps nurture the relationship further down the funnel. This system allows a marketer to effortlessly drive turnover from a database of pre-existing leads. Putting this important step in place means that you can increase revenue with a small amount of sales and marketing investment. Lead nurturing can dramatically change the way you conduct your business operations.

If you haven't heard of lead nurturing before, you're not alone. Despite the overwhelming benefits that lead nurturing offers, a 2013 study conducted by MarketingSherpa determined that just 36% of all marketers are actively nurturing their sales leads. Perhaps lead nurturing is something your company can explore this year.
Which lead-nurturing tactics are the most beneficial?
1. Targeted content
Targeted, quality content is of paramount importance in lead nurturing. Leads nurtured using targeted content are able to increase sales opportunities by more than one-fifth. If your company's last blog post was a couple of years ago then it's time to start writing some helpful articles that will entice and nurture leads. Understand the potential customers you are targeting and create content that will meet their specific needs. It's important to have a stable marketing platform in place that will assist you in capturing, segmenting and targeting information.
2. Timely lead follow-ups



Another key lead-nurturing tactic is timely lead follow-ups. The chances of a lead kicking off the sales process are 21 times stronger if contacted within five minutes (compared to 30 minutes from the time an inbound lead has converted on your website). A marketer can help narrow down the optimal prospects with a high degree of efficiency and effectiveness. Any time that you make a well-researched and timely call to one of your inbound leads, it is much more effective than cold calling prospects because thea lead has already been nurtured or warmed up.
3. Using multiple communication channels
When developing relationships, multiple communication channels are used, including face-to-face, telephone calls, letters (or direct mail), emails, mobile messages, social media, websites and blogs. Deciding which channels are important in communicating with your particular leads is pivotal to lead nurturing success. You need to communicate with potential customers where they are and not where you want them to be.
4. Getting personal
Personalising the messages you send to leads is much more effective than messages sent to the masses. Everyone likes it when you remember their name. The Experian Email Marketing Study reported that personalised emails can generate as much as six times more revenue.
5. Communicating more than once
A relationship cannot be built with one interaction. You will need to interact with your leads many times in order to build a relationship with them and over time their trust in you will increase. Although this may sound time-consuming, remember that an effective marketing automation system will assist you with nurturing your leads.

Talk to us