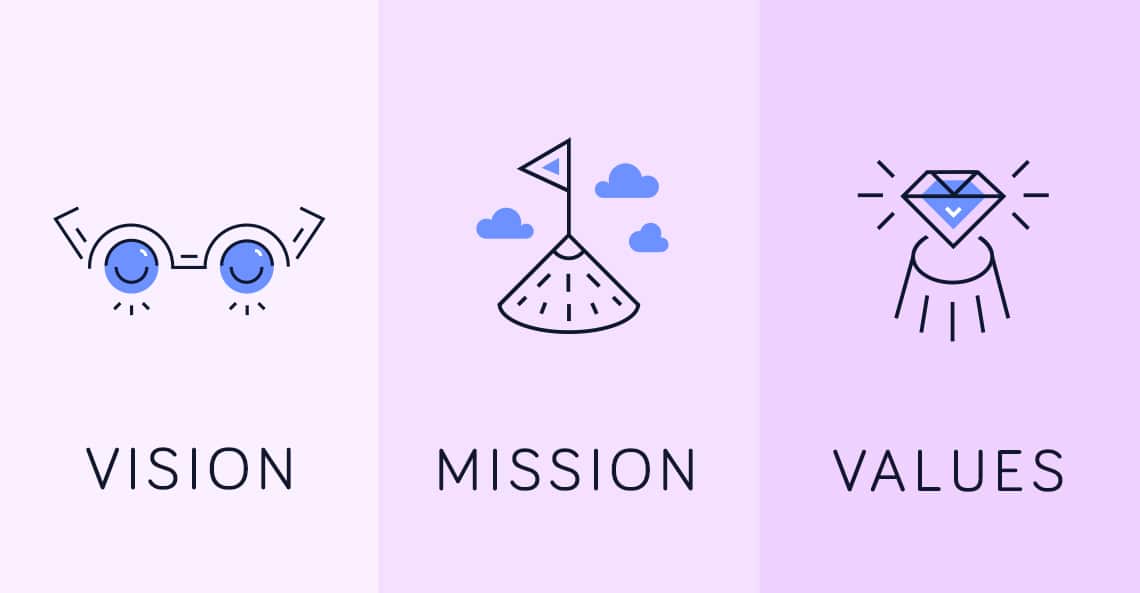 What is the difference between a vision, a mission and values?
We've all come across this vision, mission and values trio before at some point in our lives. Organisations use these statements to outline their goals, what they believe in, objectives and what they aim to achieve. This is not only informative to people interested in what your business has to offer, but provides some direction to employees. The idea behind having a vision, mission and values statement is to craft them in a way that they work harmoniously to paint an overall picture of the type of business yours strives to be. As much as they may seem as if they're one and the same, these concepts are actually quite distinct. So, allow me to break down the differences between a vision, mission and values statements, which will hopefully give you a better understanding of their purpose.
What is a vision statement?
A vision statement defines what your organisation aspires to be or become. In this statement, goals and the future of the organisation are considered. Ask questions like:
– How can the organisation improve?
– What good can be achieved?
– What is our goal?
– Where do we envision the organisation in years to come?
This statement promotes growth and provides guidance to employees so that they all focus on a common goal. Here are a few examples of strong vision from some well-known organisations:
· Google: "to provide access to the world's information in one click"
· Coca-Cola: "inspiring each other to be the best we can be by providing a great place to work"
What is a mission statement?
A mission statement is an action statement that involves how your vision can be achieved. The mission and vision statements are often confused – to avoid making that mistake; remember that mission = action statement and vision = projection statement.
When drafting up your organisation's mission statement, ask questions like:
– What is our purpose as an organisation?
– What can be done to achieve our envisioned goal?
– What do we offer?
The mission statement is usually a little more specific, playing a part in contributing to strategic goals. Strategic goals assist with achieving the organisation's overall end goal. Here are a few examples of strong mission statements from some well-known organisations:
· Google: "To organize the world's information and make it universally accessible and useful."
· Coca-cola: "To refresh the world… To inspire moments of optimism and happiness… To create value and make a difference."
What is a values statement?
A values statement refers to the organisations principles and core values. This statement slightly drifts away from both the vision and mission – but still works as one coherent.
The values statement defines what the organisation believes in and how the organisation and everyone in it is expected to behave. Here are a few examples of strong values from some well-known organisations:
· Google: "Focus on the user and all else will follow, Fast is better than slow, Democracy on the web works, You can make money without doing evil, There's always more information out there, and great just isn't good enough."
· Coca-Cola: "leadership, collaboration, integrity, accountability, passion, diversity, and quality."
After reading this breakdown, I'm sure you can agree that the combination of these three statements form the foundation for everything going on within the organisation. as well as setting the course that the organisation should be on. Allow people to envision your organisation the way you see it by getting started on your vision, mission and values statements (if you haven't already) – and smashing them!

Talk to us