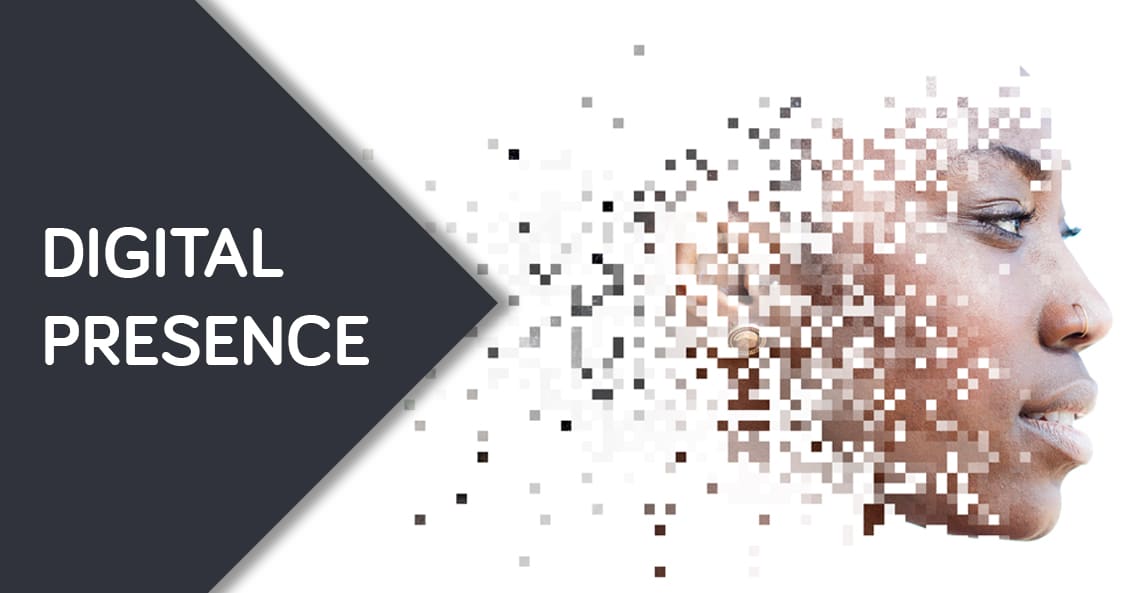 7 tips to build a strong digital presence for your brand in South Africa
Building a strong digital presence for your brand is something every business should have top of mind in 2020 and beyond. Whether you have a few random digital footprints floating around or nothing at all, it's never too late to give your brand a solid foundation in the digital space.
A digital presence takes time to build and gain momentum on the world wide web. The smaller and unique South African market allows you to localise your efforts and quickly build a strong digital presence within your target market.
Here are 7 tips to build a strong digital presence in South Africa
Tip 1: Start with a strong foundation – your website
As with any building project, the foundations must be strong and secure to ensure the house doesn't collapse. An outdated Facebook page or a YouTube video you posted years ago will give you some form of digital presence. In 2020, that is just not enough. All digital footprints must point back to or be backed up by the information hub of your business website.
Ensuring your website has the following attributes will give you peace of mind that all visitors to your main 'building' will have their requirements met.
Your website must be true to your brand (use the correct logo, font, colours, etc)
Your website must be visually appealing (and from this decade)
Your website should be simple to navigate
Your website must be fast – I mean seriously fast. Data is expensive so don't waste a South African's time and money on your homepage.
Your website must work well on mobile devices (duh!)
The information on your website must be accurate and up to date
Any pages you have removed must have a helpful 404 message or a redirect in place
Your website should have new content, imagery, videos or blog posts added regularly
Your SEO and keywords should be aligned to your digital marketing plan
Your website must be secure to ensure it doesn't get hacked
Tip 2: Do the brickwork by adding relevant social profiles
A website alone will not be enough to build a strong digital presence. Social media profiles have become excellent marketing tools to drive traffic to your website. The South African market still focusses mainly on Facebook, LinkedIn and instagram (These were the biggest social media and chat platforms in 2019).
YouTube is second to Facebook globally. South Africans struggle with the cost and accessibility of data, making video content an expensive commodity. However, it is still worth building your YouTube channel and posting videos as the platform is bound to gain popularity in the country in coming months and years.
The type and tone of your business will help you decide which social platforms you should be concentrating on. That doesn't mean the other platforms can be forgotten. Twitter, for example, is a good platform to use locally, even if it is not as your primary method of communication.
Tip 3: Add easy access points, like windows and doors, by creating local listings
Local listings have shot up in popularity with searches for businesses "near me". These types of listings often prompt an in-store visit or the use of a local service. Consumers have so much choice that they are opting for businesses that are practical from a physical location.
The drive for sustainability (local produce, etc.) and supporting locally-run businesses also comes into play. Many South Africans will choose to support our local economy rather than take their business offshore if a local alternative is available.
The first step for local listings is to set up Google My Business. After that is done, search for all the free and paid local listing platforms options for your type of business. Eg. a medical practice might consider the medical pages, a plumber may consider snupit.co.za. You can also have a look where your competitors are listed to decide which platforms are worth registering with. The good old yellow pages, in digital form, is also an option.
Digital presence can include registering on various "I love (neighbourhood name)" groups on Facebook. These closed groups have become a firm favourite with South Africans for finding services and smaller local businesses.
Tip 4: Add the furnishing with content, content and more content
The number of scatter cushions in a home might be the start of many a domestic argument. In the case of content, there is never really enough. That said, quality over quantity is the rule in this case. The type of content you create will be influenced by the type of business you are in and by the social platforms you choose to prioritise. Posting relevant, quality content regularly will keep your business top of mind, and you will quickly build up a large library of digital content. All your content works together to strengthen your SEO scores.
Tip 5: Invite your friends over and utilise their reviews
Start asking customers and clients to post online reviews and referrals through your Google My Business page, Facebook page, etc. This form of digital presence is often built over time, but both good and bad reviews and referrals will result in a strong presence. If your business is good and you receive one or two bad reviews, the great reviews will soon outweigh the bad. Try to respond and help any unhappy customers where possible.
Tip 6: Call in a professional decorator and pay for some digital marketing
Building your desired digital presence might take longer than you would like. Should that be the case, you can always use some digital marketing tools such as Google Ads or Facebook/Instagram advertising to drive traffic to your website.
Tip 7: Move the furniture around with the help of stats and data
Digital is trackable. Every click, user journey and visitor should be monitored and analysed to see if and where changes can be made. These results will quickly show you what areas of your digital presence are bringing you traffic and which are not. You can either work on the areas which are not bringing you much traffic to improve them or you can see how you can capitalise on areas which are already working well.
Once you have set up the means to achieve a strong digital presence in South Africa, you will need to maintain it and ensure you are keeping up with digital trends. To keep your digital presence strong and growing:
Add content regularly (e.g. blogs, website content and social posts )
Google your business and check the results
Respond to social media messages, reviews, etc. promptly (yes, that includes Hello Peter)
A strong digital presence will not be a once-off, overnight task. It takes time, patience and effort. We believe it is time and effort well spent and that the long-term reward of patience is worth it.
Looking for a digital solution?