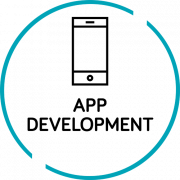 Have you got a great mobile app idea? We specialise in the development of web apps and purpose-built hybrid mobile applications – from the overall user experience to cloud-based system integration.
Mobile comes first
Today, app development is important because we find ourselves in a mobile-first world. This means that most people are doing what they need to do in the digital world on their smartphones and tablets. So, ignoring mobile devices in your digital strategy could be detrimental. Our mobile development solutions encompass the formation of websites and applications for mobile devices. We are intentional about developing mobile responsive sites and apps that automatically resize for various screen dimensions and maximise a user's experience when viewing content on a mobile device. This ensures that you not only meet your market where they are at, but that you also provide them with a delightful experience.
When it comes to mobile app development, we like to ensure our clients select a route that makes the most sense for their unique business needs.
Web applications are essentially websites that have been designed in such a way that the functionality is similar to that of a mobile app. They are usually coded in Javascript and HTML5, and work in different browsers like Safari and Chrome. Web apps are a cost-effective option for startups or small businesses that may not require the complex interactivity of more advanced apps or access to specific operating system features. Although web apps cannot be accessed through app stores (for now), it is possible for users to save the page on their home screens. It is, therefore, a great option to test your market before pursuing other mobile app options.
Getting onto the app store
Alternatively, a hybrid mobile application can be accessed through app stores and can incorporate specific operating system features. Hybrid applications are basically a combination of native and web applications. Native apps are costly as they are developed for specific platforms, e.g. iOS and Android. We choose to focus our attention on hybrid apps because development is smoother and faster, and overall they require less maintenance. The biggest advantage of hybrid apps is that they can be built on a single code base and this allows for new features to be added to multiple versions of the app. It is a cross-platform option – additions or changes are developed once and deployed to all platforms. This is not possible with native apps, as replication of each additional functionality would need to be done for each platform's native language.
Regardless of the selected route, our mobile app development team focusses on outstanding UX design, phenomenal functionality, API integration and cloud-based system integration. We do not make apps just for the sake of it. We make apps that meet objectives and augment a client's digital strategy.